Arts for Action: Black Voices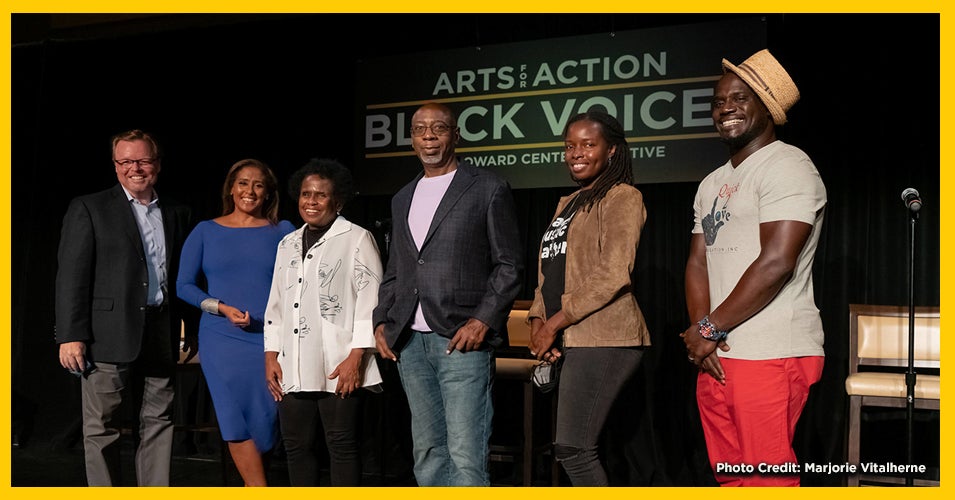 Arts For Action: Black Voices is a Broward Center initiative focusing on how the arts and artists can be a force for change in addressing critical issues of social justice and racial inequality. The program features a variety of multi-disciplinary discussions, performances, and art-making events, virtually and in-person, culminating in a free outdoor arts festival in Esplanade Park on March 20, 2022.
The Arts for Action: Black Voices initiative is funded through the Community Foundation of Broward's Art of Community grant program, which aims to use the arts as a catalyst to heighten awareness, deepen knowledge, and mobilize action on social justice issues. Support has been provided by the following funds at the Community Foundation of Broward: Mary N. Porter Community Impact Fund, Community Concerts Association of Fort Lauderdale Performing Arts Fund, A Fund for the Performing Arts and the Linda and Michael Carter Fund.

Additional supporters of the Broward Center initiative include BBX Capital Foundation and JM Family Enterprises, Inc.
For more information on Arts For Action: Black Voices or to get involved, email ArtsForAction@BrowardCenter.org.
PAST EVENTS – select events available to watch online
Bridging the Gap Community Dialogue – June 2, 2021
From Education to Employment Community Dialogue – September 14, 2021
The Happening – A Theatrical Mixtape, Volume III – October 14 – 17, 2021

Infusing Black Literature & Art Time in Family Time. A Community conversation in partnership with Broward County Schools Office of Family & Community Engagement (FACE),  Abdo New River Room – February 24, 2022 
Rhythm by the River: A Festival Celebrating Black Voices, Esplanade Park – 2:00 PM – 6:00 PM on March 20, 2022
 
Check back for details or sign up and follow us to receive notification as events are announced.
---
Related programs from our partners:
Learn about the new fellowship program introduced this year the Black Theater Coalition and Broadway Across America. This comprehensive paid fellowship is for college undergraduate juniors, seniors and recent graduated interested in pursuing a career in theater administration. Recognizing the underrepresentation of Black-identifying professionals in the commercial theater industry, this program is dedicated to fostering and preserving a culture of equity, diversity, access and inclusion while providing an invaluable, in-depth education in the business of commercial theater.