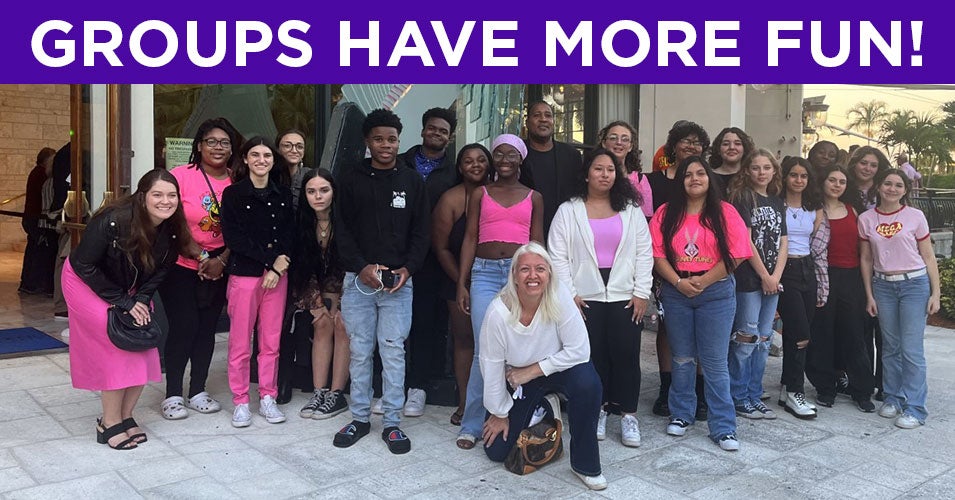 SAVE MONEY
Groups of 10+ Save 10-25% Off Most Performances
Groups Save On Fees
GROUP PERKS
Talkbacks Available After Select Performances
Meet & Greets Available Upon Request
Corporate Supergroups Available!
VIP TREATMENT
Priority Seating
Personalized Customer Service
Easy Payment Plan Options
CONTACT US

By phone: 954.660.6307
Monday-Friday, 10:00 AM-2:00 PM
Messages will be returned within 2 business days.
TEACHERS, STUDENTS, & SCOUT GROUPS
Educators love the student discount that brings ticket prices down as low as $X for select performances. We provide study guides for most productions, and offer Talkback Tuesday post-show Question and Answer Sessions with cast members, making the performance a truly educational experience.
COMPLIMENTARY PATCHES AVAILABLE FOR SCOUTS!
SENIORS
Weekend matinees and Sunday evenings have great discounts. All our theaters have many features with total accessibility in mind.
TOUR AND TRAVEL
Reserve as much as a year in advance with an easy payment plan. Broadway shows are always a hit at South Florida prices! Ask about our partner hotels and restaurants.
FUNDRAISING BENEFITS
The hottest ticket in town can make your gala a success. Reserve the maximum number of seats you might need, then, if necessary, reduce down as payments become due.
CORPORATE SUPERGROUPS
Give your employees the benefit of discounted tickets and low service fees by becoming a Supergroup! Prime locations are frequently available at prices lower than the box office. Reward your employees or entertain your best clients with tickets to a show.
THE SYLVESTER COMPREHENSIVE CANCER CENTER INTERMEZZO LOUNGE
Enhance your theater experience with drinks, appetizers and desserts one hour before the performance and then during intermission in our stylish lounge. Group rates available! Contact us for more information!
SPIRIT AIRLINES CLUB LEVEL
Booked along with some of the best seats in the house, valet parking, a full bar, light snacks, and private restrooms will make your night at the theater unforgettable. Groups rates are available, but inventory is limited. Contact us for more information.
GROUP LEADER TOOLS
Download seating charts, study guides and video resources, or request custom artwork for marketing to your group.
TICKETING POLICY
For information or to order call 954.660.6307
Due to the nature of theatrical performance, shows, dates, times, venues and cast are subject to change without notice.