TEEN AMBASSADORS TAKE A CURTAIN CALL AND SALUTE THE CLASS OF 2020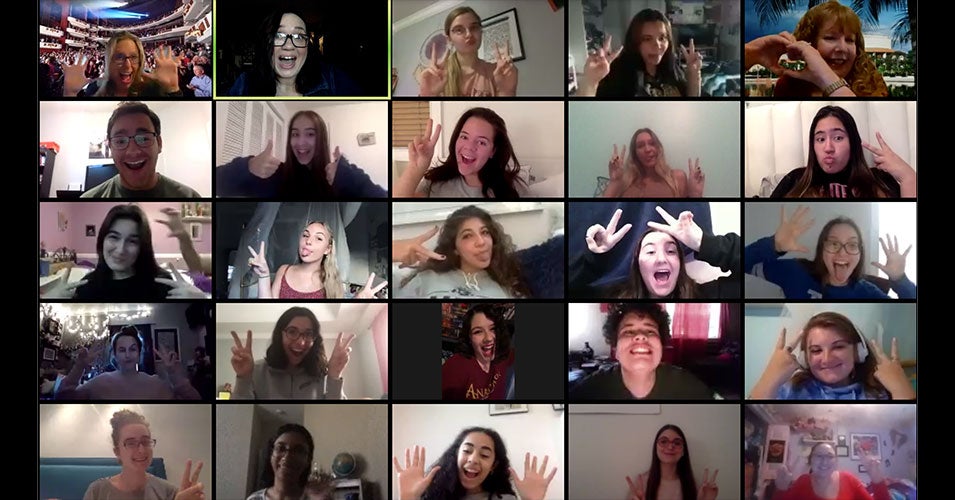 With the theaters dark, these 25 students concluded the program by reviewing streaming performances of Broadway, classical, dance, opera, and jazz remotely. Our CEO Kelley Shanley, Broadway Across America's Susie Krasja, fans and friends sent video greetings and warm congratulations. It was a bittersweet ending, especially for the graduating high school seniors.
The final season meeting took place virtually on May 21 via Zoom, with the students gathering with their mentors to look back at a great season and share their experiences. During the event, students reviewed the 2019/2020 season highlights with snapshots of their season experiences, acknowledgements of total service hours, recaps of favorite moments, lots of laughter and a few emotional goodbyes, especially as the graduating seniors shared their plans for the future at these uncertain times. A special invitation to graduating seniors to participate in upcoming cue times with our volunteers was offered to keep them connected to their Broward Center family.
The teens enjoyed heartfelt thanks in video messages from many Partners in the Arts including Broadway Across America, Slow Burn Theatre Co., Miami City Ballet, Gold Coast Jazz and Symphony of the Americas, with a warm farewell from Broward Center's CEO Kelley Shanley.
As part of the Teen Ambassador program, up to 25 high school students are selected each year to receive free tickets to attend performances and workshops at the Center and our affiliated venues to enhance their knowledge of the performing arts. Students attend shows in a variety of genres including Broadway, opera, ballet, jazz, concerts and family programming and gain a unique glimpse behind the scenes at the business of the performing arts. They meet with industry insiders, cast and crew, enjoy backstage experiences, and opportunities to learn from theater professionals. They then share their insights and post their written and video reviews through social media and digital channels, including a dedicated Teen Ambassador website they manage and maintain. Beyond the benefits of seeing shows and earning community service hours, these teens create lasting friendships and great memories. They are now part of a growing network of Teen Ambassador alumni. Learn more about our Teen Ambassador Program.