TEACHING WITH HEART THROUGH THE ARTS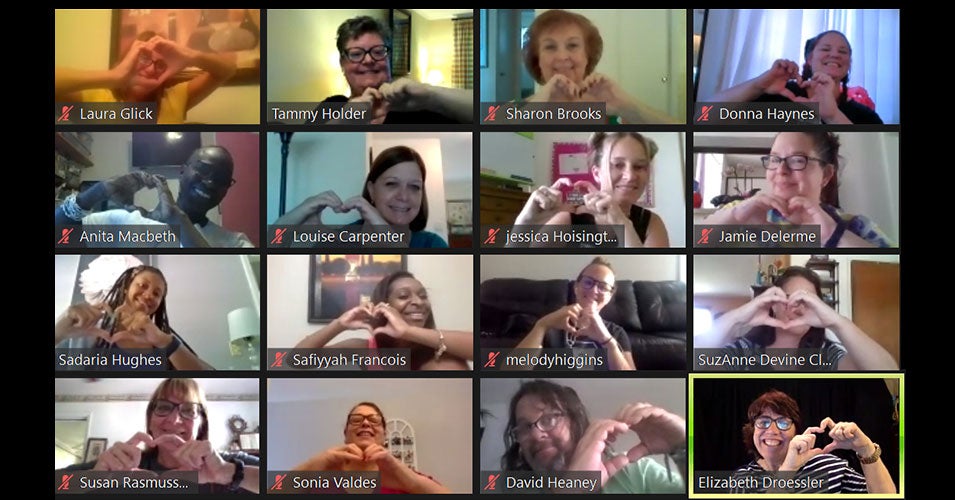 A dynamic group of elementary teachers gathered on Zoom as the school year came to a close for a virtual arts integration institute where they learned how to incorporate dance, music, theater and visual arts strategies into online instruction. With the school year set to start in the virtual classroom this coming year, they'll soon be putting these skills to use to motivate and educate.
Working in collaboration with partners at Broward County Schools, and with support from the Frederick A. DeLuca Foundation, the Broward Center provided this online arts integration training program for Broward County educators which focused on the power of the arts to help students learn core curriculum subjects.
As one of the returning teachers from Bethune Elementary shared, "When students are engaged totally--whether with singing, dancing, acting or creating illustrations-- the learning sticks."
"Studies show that integrating the arts into the wider curriculum improves students' overall academic performance, creative and critical thinking, self-confidence and social development," said Broward Center Director of Education Sharon Brooks. "We knew this training would be beneficial to teachers, especially when it comes to online learning."
For more than a decade, the Broward Center in partnership with the School Board of Broward County and the Broward Cultural Division have presented annual conferences for teachers to demonstrate how the arts can be integrated to more effectively teach academic subjects in the classroom. Participants in this summer's Institute had previously attended arts integration workshops and have used integration strategies in their face-to-face instruction.
Led by Arts Integration Professional Dr. Liz Droessler and Broward Center's artist-in-residence Tammy Holder, the four-day online program provided strategies to increase student engagement, make connections across the curriculum, help students think critically, build communication skills and provide students alternative ways to show what they know in an online platform. Participants were asked to create an arts integration lesson plan to be delivered online for each core content area, a training action plan to implement at their schools, record an arts integration activity for students and lead an online arts integration workshop with grade-level peers. With school starting in a few weeks, they'll have a chance to put these new skills to work.