SLOW BURN GOES BEHIND THE SCENES: "IN THE GREEN ROOM LIVE!"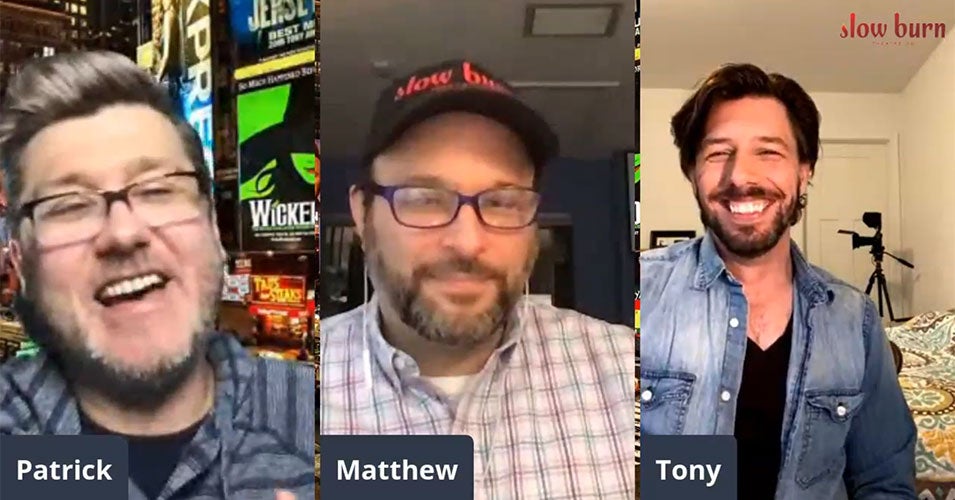 Get to know your favorite actors and musicians with an insider's peek behind the scenes as Slow Burn Theatre Co.'s co-founders Patrick Fitzwater and Matt Korinko host weekly livestream conversations and performances on Sundays at 6:00 PM featuring talented artists who have been part of Slow Burn's celebrated ten-year history. South Florida's Clay Cartland and Kimmi Johnson were among the most recent guests.
Catch up on recent shows featuring Tony Edgerton (Jekyll & Hyde and A Christmas Story), Carla Bordonada (Jekyll & Hyde and Priscilla Queen of the Desert), Clay Cartland and Kimmi Johnson, co-stars of both Shrek and Groundhog Day and Shrek stars Wesley Slade and Reynel Reynaldo.
Slow Burn Theatre calls the Amaturo Theater its home and has built a dedicated fan following. Slow Burn offers audiences challenging, contemporary works of musical theatre and serves the community with mission-based educational and special needs performances, contributing to a dynamic theatre scene. The 2020/2021 Slow Burn season is now on sale with titles that include Head Over Heels, Ragtime and Kinky Boots.
Watch Past Episodes: