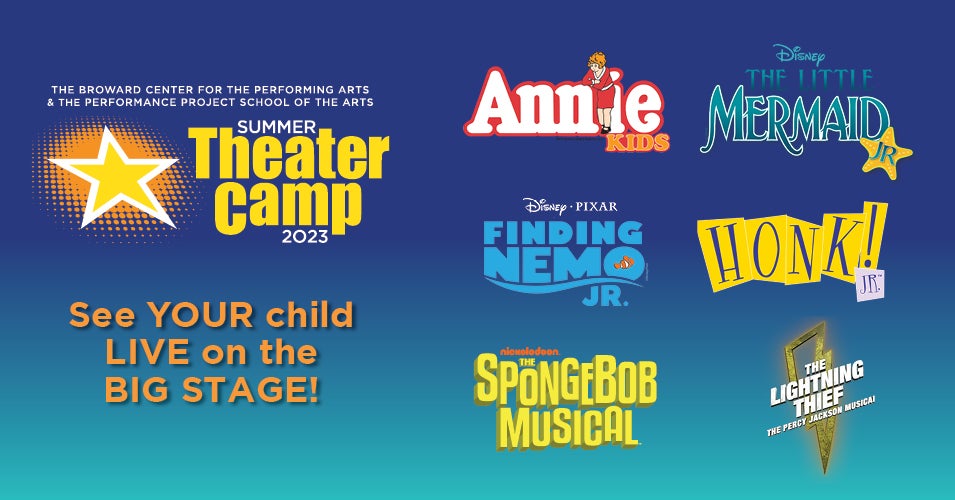 SUMMER THEATER CAMP RETURNS
The Broward Center for the Performing Arts and The Performance Project School of the Arts, welcome you to Summer Theater Camp 2023! Two sessions of camp are available at Broward Center in Fort Lauderdale, Aventura Arts & Cultural Center in Aventura and the Rose & Alfred Miniaci Performing Arts Center at Nova Southeastern University in Davie.
See old friends and make news ones, be taught by professional performing arts teachers, and have fun putting on an amazing show on the Amaturo stage. The camp offers students the chance to study singing, dancing and acting while rehearsing for a theatrical production culminating in a final performance on stage at the Broward Center. As part of enrollment, each camper will receive a Summer Theater Camp 2023 T-Shirt and cast photo.
Camp Fee: $935 per session
$265 non-refundable deposit required. Deposit is applied toward camp price of $935.
Register by March 10 and receive $100 off the camp fee.
All shows and dates are subject to change. Discounts may not be combined. All sales final.
Extended Hours & Catered Lunch are Available
Click here for more information and to register for extended hours or lunch
---
Broward Center for the Performing Arts - Fort Lauderdale
Session 1: June 12 – July 7
Group A, Annie KIDS (Ages 7 – 9) - SOLD OUT

OPENINGS AVAILABLE AT ROSE & ALFRED MINIACI PERFORMING ARTS CENTER AT NSU- DAVIE

Group B, Disney's The Little Mermaid JR. (Ages 10 – 13) - SOLD OUT

OPENINGS AVAILABLE AT ROSE & ALFRED MINIACI PERFORMING ARTS CENTER AT NSU- DAVIE AND AVENTURA ARTS & CULTURAL CENTER
Broward Center for the Performing Arts - Fort Lauderdale
Session 2: July 10 – August 4
Rose & Alfred Miniaci Performing Arts Center at NSU- Davie
Session 1: June 19 – July 14
Rose & Alfred Miniaci Performing Arts Center at NSU- Davie
Session 2: July 17 – Aug 11
Aventura Arts and Cultural Center - Aventura
Session 1: June 26 – July 21
Group A, Annie KIDS (Ages 7 – 9) - SOLD OUT

OPENINGS AVAILABLE AT ROSE & ALFRED MINIACI PERFORMING ARTS CENTER AT NSU- DAVIE
Aventura Arts and Cultural Center - Aventura
Session 2: July 24 – August 16*
The camp fee for Session 2 is $845. August 17-18 are optional summer theater camp dates for Session 2 and may be added on for an additional cost of $90 during registration. These extended summer camp dates will be fun days filled with theater games, a talent show, and more. Receive $100 off the $845 registration fee when you register by March 10.
SUMMER CAMP SHOWS
ANNIE KIDS
The irrepressible comic strip heroine takes center stage in one of the world's best-loved, award-winning musicals. Based on the popular comic strip and adapted from the Tony Award-winning Best Musical, with a beloved book and score by Tony Award winners, Thomas Meehan, Charles Strouse and Martin Charnin, Annie JR. features everyone's favorite little redhead in her very first adventure. With equal measures of pluck and positivity, little orphan Annie charms everyone's hearts despite a next-to-nothing start in 1930s New York City. Annie is determined to find the parents who abandoned her years ago on the doorstep of an orphanage run by the cruel Miss Hannigan. Annie eventually foils Miss Hannigan's evil machinations, finding a new home and family in billionaire Oliver Warbucks, his personal secretary, Grace Farrell, and a lovable mutt named Sandy.
Disney's THE LITTLE MERMAID JR.
Journey "under the sea" with Ariel and her aquatic friends in Disney's The Little Mermaid JR., adapted from Disney's Broadway production and the motion picture (featuring the enormously popular Academy Award-winning music and delightfully charming book and lyrics). Based on one of Hans Christian Andersen's most beloved stories, Disney's The Little Mermaid JR. is an enchanting look at the sacrifices we all make for love and acceptance. In a magical underwater kingdom, the beautiful young mermaid, Ariel, longs to leave her ocean home — and her fins — behind and live in the world above. But first, she'll have to defy her father, King Triton, make a deal with the evil sea witch, Ursula, and convince the handsome Prince Eric that she's the girl whose enchanting voice he's been seeking.
HONK! JR.
This delightful adaptation of the beloved fable and the award-winning musical is a heartwarming celebration of what makes us special. Adapted for young performers, and with a score by George Stiles and Anthony Drewe (Mary Poppins), Honk! JR. is a heartwarming celebration of being different that is sure to delight audiences of all ages with its sparkling wit, unique charm and memorable score. Witty and hilarious, but also deeply moving, Honk! JR. will treat your audiences to equal amounts of laughter and tears. Ugly looks quite a bit different from his darling duckling brothers and sisters. The other animals on the farm are quick to notice and point this out, despite his mother's protective flapping. Feeling rather foul about himself, the little fowl finds himself on an adventure of self-discovery, all the while unknowingly outwitting a very hungry Cat. Along the way, Ugly meets a whole flock of unique characters and finds out being different is not a bad thing to be.
THE SPONGEBOB MUSICAL: YOUTH EDITION
The stakes are higher than ever in this dynamic stage musical, as SpongeBob and all of Bikini Bottom face the total annihilation of their undersea world. Chaos erupts. Lives hang in the balance. And just when all hope seems lost, a most unexpected hero rises up and takes center stage. The power of optimism really can save the world! The SpongeBob Musical is based on the beloved animated series created by Stephen Hillenburg and features a book by Kyle Jarrow, with original songs by Yolanda Adams, Steven Tyler and Joe Perry of Aerosmith, Sara Bareilles, Jonathan Coulton, Alexander Ebert of Edward Sharpe & The Magnetic Zeros, The Flaming Lips, Lady A, Cyndi Lauper, John Legend, Panic! At the Disco, Plain White T's, They Might Be Giants and T.I., and songs by David Bowie, Tom Kenny and Andy Paley. Additional lyrics are by Jonathan Coulton, with additional music by Tom Kitt. The musical production was conceived by Tina Landau.
THE LIGHTNING THIEF
When teenager Percy Jackson discovers he's a demigod, he and his friends embark on an epic journey to find Sues' missing lightning bold and prevent a war among the gods. As the half-blood son of a Greek god, Percy Jackson has newly-discovered powers he can't control, a destiny he doesn't want, and a mythology textbook's worth of monsters on his trail. When Zeus's master lightning bolt is stolen and Percy becomes the prime suspect, he has to find and return the bolt to prove his innocence and prevent a war between the gods. But to succeed on his quest, Percy will have to do more than catch the thief. He must travel to the Underworld and back; solve the riddle of the Oracle, which warns him of betrayal by a friend; and come to terms with the father who abandoned him. Adapted from the best-selling book The Lightning Thief by Rick Riordan and featuring a thrilling original rock score, The Lightning Thief: The Percy Jackson Musical is an action-packed mythical adventure "worthy of the gods" (Time Out New York).
DISNEY'S FINDING NEMO JR.
Disney's Finding Nemo JR. is a 60-minute musical adaptation of the beloved 2003 Pixar movie Finding Nemo, with new music by award-winning songwriting team Kristen Anderson-Lopez and Robert Lopez. Marlin, an anxious and over-protective clownfish, lives in the Great Barrier Reef with his kid Nemo, who longs to explore the world beyond their anemone home. But when Nemo is captured and taken to Sydney, Marlin faces his fears and sets off on an epic adventure across the ocean. With the help of lovable characters such as optimistic Dory, laid-back sea turtle Crush, and the supportive Tank Gang, Marlin and Nemo both overcome challenges on their journey to find each other and themselves. Featuring memorable songs such as "Just Keep Swimming," "Fish Are Friends Not Food," and "Go With the Flow," Finding Nemo JR. brings a vibrant underwater world to life on stage in a story full of family, friendship, and adventure.
How to Register

Internship

Meet the Director

Following a career as a professional actress, Nina Felice founded The Performance Project School of the Arts to nurture young talent and encourage the pursuit of their creative dreams. With a bachelor's degree in Fine Arts and a master's degree in Child/Family Psychology, Nina incorporates the two disciplines into her teaching techniques to guide and motivate young performers.

What are the current health and safety guidelines for the Broward Center for the Performing Arts?

Click here to review our current Health & Safety Guidelines before coming to the Broward Center.

What are the office hours?

Monday – Friday, 9:00 AM – 5:00 PM

The Education Office is not open for visitors at this time. You may contact the Education Office at 954-468-2869.

What happens if camp is sold out and I am on the waitlist?

If a space becomes available, you will be contacted by a Broward Center education staff member to register within 48 hours of notice. If we do not hear back from you within this time period, we will move on to the next person on the waitlist.