USHER IN THE NEW ARTS SEASON AS A VOLUNTEER AT THE BROWARD CENTER AND ITS AFFILIATED VENUES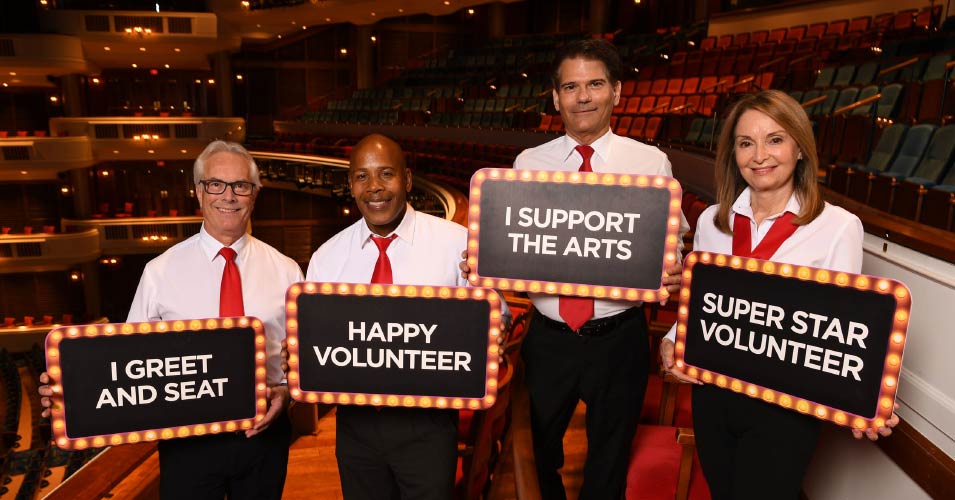 There is perhaps no better way to be a part of the exciting new arts season than literally ushering it in as a volunteer usher welcoming patrons and guiding them to their seats. The Broward Center for the Performing Arts is holding orientations in September for volunteer opportunities at the Broward Center and its affiliated venues.
Members of the dynamic volunteer usher corps enjoy comradery and expand their horizons during performances of Broadway blockbusters, regional companies and the biggest names in music, comedy and dance. The corps is made up of local arts lovers including high school students who are eligible for community service hours, retired seniors and family members that volunteer together.
Volunteers commit to a regular weekly evening or matinee shift for a full season at the Broward Center, The Parker, the Rose & Alfred Miniaci Performing Arts Center at Nova Southeastern University and the Aventura Arts & Cultural Center.
Interested applicants must submit an application prior to attending an orientation. Orientations will be held in the Au-Rene Theater at the Broward Center on Tuesday, September 12 at 6 p.m. and Thursday, September 28 at 6 p.m. Ushers who attend one of those orientations may also attend an orientation at The Parker that is specific to that venue on Wednesday, September 13 at 6 p.m.
Applications are available on line at BrowardCenter.org/Usher, by emailing volunteer@browardcenter.org or calling 954.468.2684. The Broward Center for the Performing Arts is located at 201 SW Fifth Ave. in Fort Lauderdale.
The Broward Center 2023/2024 season is supported by the Broward Performing Arts Foundation. AutoNation, Greater Fort Lauderdale Convention & Visitors Bureau, Spirit and UHealth University of Miami Health System. Programs are also sponsored in part by the State of Florida through the Division of Arts and Culture and the National Endowment for the Arts.
About The Broward Center for the Performing Arts
One of America's premier performing arts venues, the Broward Center for the Performing Arts presents more than 700 performances each year to more than 700,000 patrons, showcasing a wide range of exciting cultural programming and events. Guest experiences at the Broward Center include the all-inclusive Spirit Club Level, the Sylvester Comprehensive Cancer Center Intermezzo Lounge, special events in the Huizenga Pavilion, waterfront dining at Marti's New River Bistro and innovative classes and workshops for all ages at the Rose Miniaci Arts Education Center. With one of the largest arts-in-education programs in the United States, the Broward Center serves more than 130,000 students annually. The Broward Performing Arts Foundation, Inc. receives and maintains funds to sustain, develop and secure the future of the Broward Center. The Broward Center for the Performing Arts is located at 201 SW Fifth Ave. in Fort Lauderdale. For more information, visit BrowardCenter.org.