AWARD-WINNING SONS OF MYSTRO BRING THEIR CROSSOVER BEAT THE THE PARKER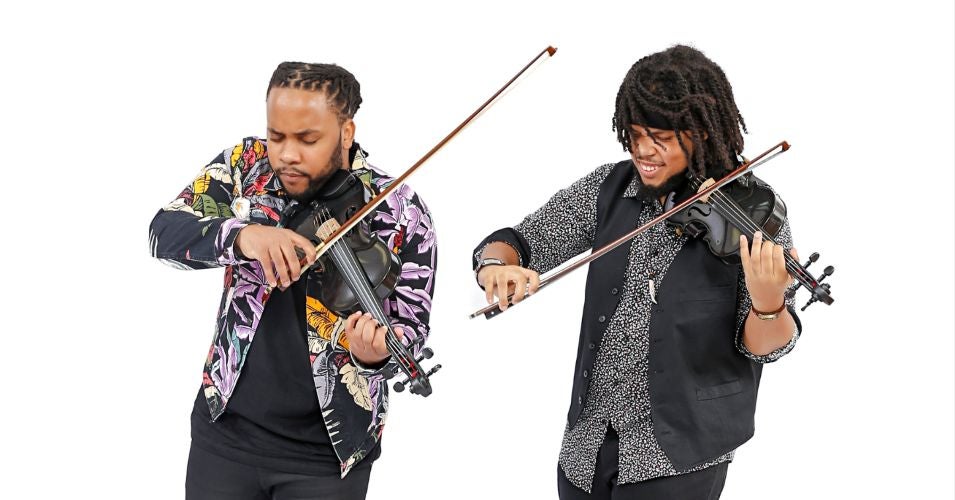 Honored with the "Emerging Artist Under 21 Years Old" award from the International Reggae and World Music Awards, Sons of Mystro comes to Lillian S. Wells Hall at The Parker on Sunday, November 6 at 6 p.m.
Born in South Florida to a Jamaican father and Barbadian mother, Malcolm, 23, and his 20-year-old brother Umoja learned to play violin through South Florida's public school system attending Bethune Elementary, Parkway Middle, and Dillard High School for the Performing Arts. Together, these brothers are Sons of Mystro using their violins to interpret reggae classics, American pop songs and their own creations accompanied by a DJ & a drummer.
Mentored by Black Violin, these artists' stars are on the rise with appearances at the ESPN/BCSChampionship Party, the 8th Annual Jazz In The Gardens and Carnival On The Mile as well as opening for Sean Paul at Calle Ocho Festival Miami, The Fray, and Dennis Edwards and the Temptations Revue for the Nat King Cole Generation Hope, Inc. Their debut recording, Reggae Strings, is available now wherever music is streamed or sold.
Sons of Mystro will be recognized by sports fans from their appearances at seven Miami Heat games during the 2011/2012 basketball season performing the signature song, "Back in Black-AC/DC."
The concert is presented as part of the Broward Center for the Performing Arts' Arts for Action: Black Voices initiative, which aims to use the arts as a catalyst to heighten awareness, deepen knowledge, create connections and elevate the voices of Black creatives in South Florida. This year, Arts for Action: Black Voices initiatives are generously supported by JM Family Enterprises, Inc.
Tickets are $25-$30. Ticketmaster is the only official ticketing service of The Parker. Buy tickets online at ParkerPlayhouse.com and Ticketmaster.com; by phone at 954.462.0222; in person at The Parker box office and the Broward Center's AutoNation Box Office.
Lillian S. Wells Hall at The Parker is located in Holiday Park at 707 N.E. Eighth St. in Fort Lauderdale. The Parker is an affiliated venue of the Broward Center for the Performing Arts, which provides programming and management of the facility. The performance season at The Parker is supported by the Broward Performing Arts Foundation.
About The Parker
The Parker is Fort Lauderdale's iconic, heritage theater presenting concerts, comedy, dance, family fare and more. Beautifully renovated in 2021, The Parker offers audiences enhanced entertainment and hospitality experiences. The neo-classical Lillian S. Wells Hall features outstanding acoustics, unobstructed sightlines, wide rows and continental seating. The grand S. Donald Sussman Lobby, the intimate Haller Club, and the private members' lounge, The Place To Be, provide ample opportunities for audiences to enjoy culture, cocktails and conversation with every visit to the theater. For more information, visit ParkerPlayhouse.com.