THE BROWARD CENTER WELCOMES THE TEEN AMBASSADOR CLASS OF 2022/2023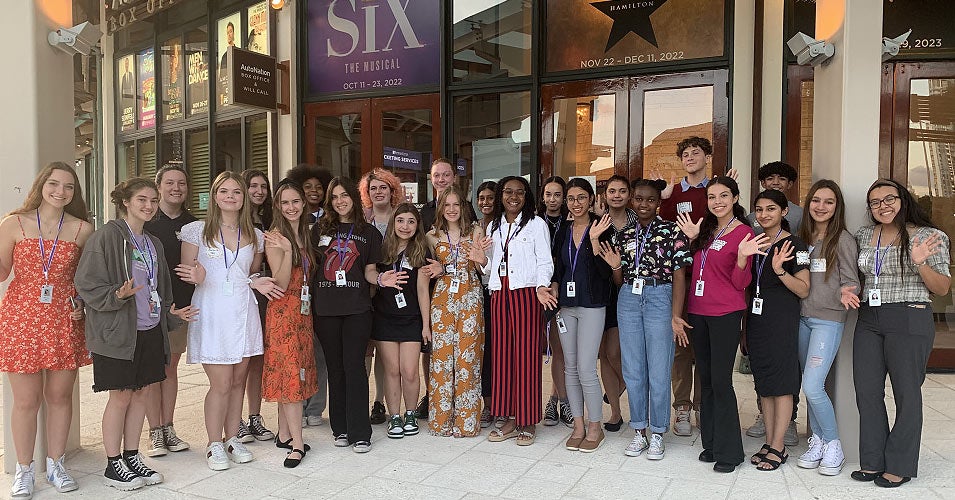 The Broward Center for the Performing Arts is pleased to announce the Teen Ambassador Class of 2022/2023 comprised of 26 high school students from 16 campuses in Miami-Dade, Broward and Palm Beach.
The six freshmen, four sophomores, eight juniors and eight seniors are all students interested in arts, journalism and marketing. As Teen Ambassadors they are provided with behind-the-scenes experiences and exclusive educational opportunities such as meeting with theater industry professionals to gain unique insights into the business of the arts.
Members of the class share their experiences at the Broward Center and affiliated venues with the community by posting their experiences to the Teen Ambassador website and their personal social media channels. Teen Ambassadors are invited to attend performances, at no charge, after which they create written and video reviews to offer a teen perspective of live performances in a variety of performance styles and genres. As part of the program, the students can also earn community service hours.
The Broward Center for the Performing Arts is located at 201 SW Fifth Ave. in Fort Lauderdale. For more information visit BrowardCenter.org, like us on Facebook at Facebook.com/BrowardCenter and Facebook.com/BrowardCenterEducation, follow us on Twitter and Instagram @BrowardCenter, subscribe to our channel at Youtube.com/user/BrowardCenter and join the conversation with #BrowardCenter.
The Broward Center 2022/2023 season is supported by the Broward Performing Arts Foundation. AutoNation, Greater Fort Lauderdale Convention & Visitors Bureau, Spirit and Sylvester Comprehensive Cancer Center are proud sponsors of the Broward Center. Programs are also sponsored in part by the State of Florida, Department of State, Division of Arts and Culture, the Florida Council on Arts and Culture, and the National Endowment of the Arts.
###
Broward Center Teen Ambassador Class of 2022/2023
American Heritage School Plantation
Ella Charland
Jessi Kaplan
Eden Schwartz
Rodrigo Roque de Moraes
Ella Brennan
American Heritage School Delray
Jack Pawlowski
Boca Raton Community High School
Sophie McGeough
Sophia Mills
Broward Virtual School
Clare Pavillard
Calvary Christian Academy
Macey Morgan
Zoe Tibbs
Cooper City High School
Giovanna Dellaria
Coral Springs High School
Ariadna Nava
Cypress Bay High School
Shaivi Jhaveri
Shriya Jhaveri
Neena Shaw
FAU High School
Elizabeth Insuasti
Fort Lauderdale High School
Jahziah Defoe
I-Prep Academy North
Chloe Joseph
Miami Country Day School
Madelyn Pelletier
Pine Crest School Fort Lauderdale
Rebecca Adler
Eva Weiner
Pine Crest School Boca Raton
Max Levine
Saint Thomas Aquinas High School
Chiara Tome
South Plantation High School
Ayala Erez
Westminster School Fort Lauderdale
Madison Sanders