SOMETHING ROTTEN! JR. MAKES ITS DEBUT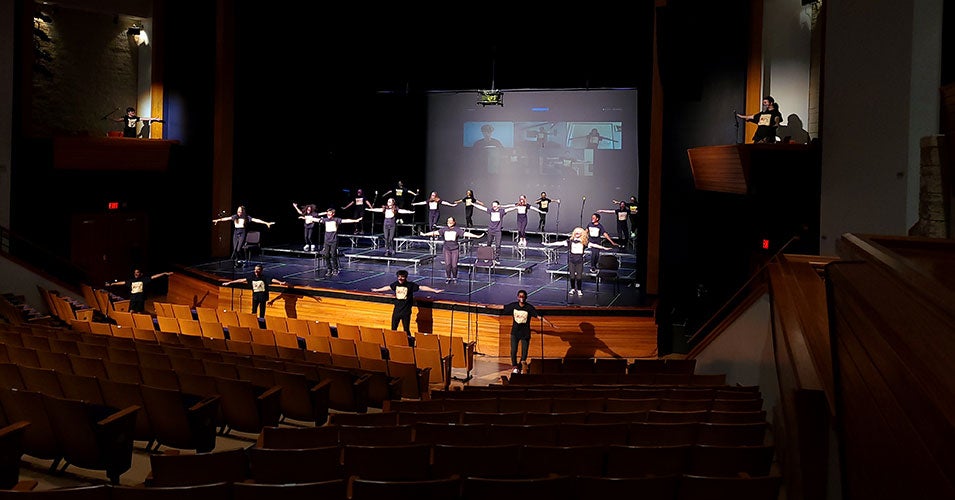 In the grand tradition of "the show must go on," students at the Broward Center's Rose Miniaci Arts Education Center took their rehearsals online from March through July to create a pilot production of Something Rotten! Jr. for Music Theatre International (MTI). The reimagined adaptation of the hit Broadway musical proved that the show really must go on. As the musical reminds audiences in one of its signature lyrics, "When life gives you eggs, make an omelette!"
Students who were part of our Advanced Musical Theater program continued their rehearsals on Zoom throughout the year and delivered a spectacular one-of-a-kind performance in the Amaturo Theater in July. Adhering to strict physical distancing guidelines and wearing custom masks to match their shirts, these students demonstrated the power of the arts to connect us - in person and through Zoom. The final performance was a staged reading with reimagined choreography that the show's writers could never have predicted.
Tammy Holder, Broward Center Artist-in-Residence and the director of the production, shared these words with her students before they took the stage: "You stuck with this production and brought your smiles and energy to our weekly rehearsals as we adapted and changed the choreography and staging all while singing on muted microphones. But I could still see the spark, the light, the incredible power of creativity in each of you. I hope you carry this experience with you as a testament to the power of the arts and to your own resilience."
The Broward Center is one a handful of theaters in the country collaborating on the creation of Something Rotten! Jr., an adaption of the hit Broadway musical Something Rotten! which was nominated for ten Tony Awards® including Best Musical. MTI's 30- and 60-minute Broadway Junior® musicals are designed for young performers in elementary and middle schools.
"We love providing students with the opportunity to create a new musical and fully immerse themselves in the production of a show from start to finish," said Tammy. "It is truly remarkable to see their passion for the arts and the perseverance they have during this challenging time."
Several high school theater students learned new skills as interns in the Zoom classroom and provided technical support to all the online and digital aspects of the production, including "zooming" several students into the theater to perform their roles.
Something Rotten, Jr! is a tale of two brothers, Nick and Nigel, who are desperate to write a hit play but are stuck in the shadow of the Renaissance rock star known as "The Bard." After meeting a local soothsayer and learning that the future of theater involves singing, dancing and acting at the same time, Nick and Nigel set out to write the world's very first musical.
This pilot project was made possible through support from The Frederick A. DeLuca Foundation.
Broward Center class offerings this fall will include virtual and hybrid programs. Classes for youth, teens and adults begin on September 9 and run for 10 weeks. Learn more at www.BrowardCenter.org/education.