SLOW BURN THEATRE CO. OPENS NEW SEASON WITH "SONG FOR A NEW WORLD"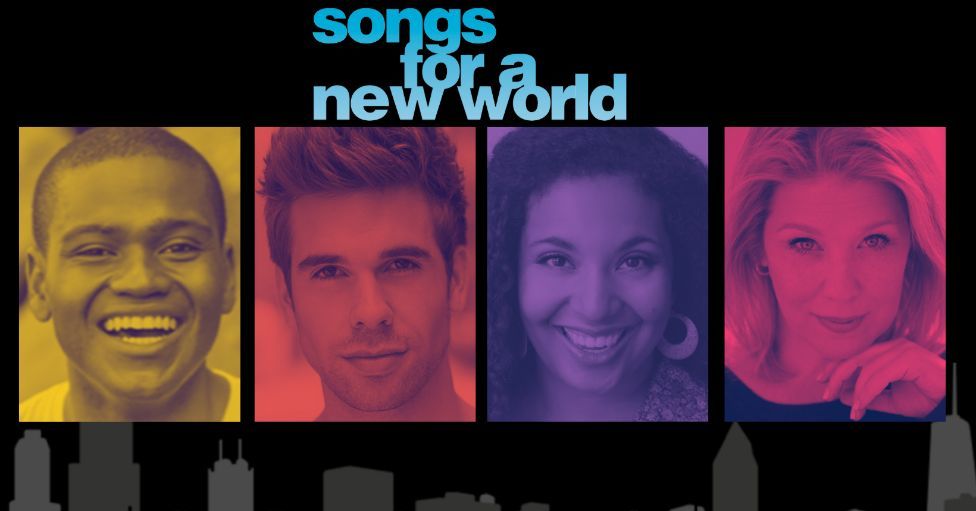 SLOW BURN THEATRE COMPANY OPENS NEW SEASON WITH "SONGS FOR A NEW WORLD"
FORT LAUDERDALE – Slow Burn Theatre Company returns to open its highly anticipated 2021/2022 season in the Amaturo Theater at the Broward Center for the Performing Arts with Songs for a New World from Tuesday, Oct. 12 through Sunday, Oct. 24. The season is presented by American National Bank, South Florida's premier community bank.
"We've been waiting in the wings for so long since the pandemic closed the theaters 18 months ago and this is the perfect show for this 'moment' and our return to the stage," said Slow Burn Theatre's Carbonell award-winning co-founder Patrick Fitzwater, who also directs and choreographs the production. "This is the first musical by Tony Award®-winner Jason Robert Brown and his score is exquisitely crafted to produce powerful scenes that are tremendously moving. The characters in Songs for A New World will resonate with audiences long after the curtain comes down for their inspiring portrayal of hope and perseverance that are touch tones of this season."
Before creating the acclaimed Broadway musicals Parade and Bridges of Madison County, Brown produced this moving look at life, love and the choices we make in that one moment whether to take a stand or turn around and go back, do what's safe or follow an adventure.
The cast features Evan Michael Smith, Timothy Michael Quinn, Cecilia Snow and Heather Jane Rolff and four equally talented standbys who are also primed to return to live performances: Leah Sessa, Darius J Manuel, Sean William Davis and Tory Vagasy.
Music Director Eric Alsford will also perform on piano in a live six-piece orchestra that includes Julie Jacobs, Martha Spangler, Bryan Dubrow, Liubov Ohrimenco and Elena Alamilla. Fitzwater, who also provides sound and scenic/projections designs, is joined on the creative team by costume designer Rick Peña and lighting designer Clifford Spulock.
In a review of a 2005 production, the Sun Sentinel reported, "A decade after the debut of Songs for a New World, the work remains a testament to Brown's innate talent and promise. The music and lyrics are stylish and alternately clever, dramatic and funny."
The 1 p.m. matinee on Sunday, October 24 offers open captioning for the hearing impaired. Generously underwritten by the Amaturo Family Foundation, open captioned performances feature a digital screen that scrolls spoken dialogue as the action occurs on stage.
Songs for a New World is produced by Slow Burn Theatre and the Broward Center for the Performing Arts and is presented through special arrangement with Music Theatre International. Slow Burn Theatre Company's 2021/2022 season is supported in part by the Broward County Cultural Division.
Performances are Tuesday – Friday at 7:30 p.m.; Saturday at 1 and 7:30 p.m.; and Sunday at 1 and 6:30 p.m. Five-show season subscriptions start at $196, offering a savings of 20% over single ticket prices, and patrons can save 10% on individual tickets when they design their own three-or-four show subscriptions. Single tickets ranging from $49-$65 are also on sale.
Ticketmaster is the only official ticketing service of the Broward Center and Parker Playhouse. Buy tickets online at BrowardCenter.org, or Ticketmaster.com; by phone at 954.462.0222 or in person at the Broward Center's AutoNation Box Office.
The Broward Center is following health & safety guidelines developed in collaboration with Cleveland Clinic and that have been informed by guidance of public health officials including the Centers for Disease Control. Ticket holders two years of age or older are required to wear a suitable face covering that covers the nose, mouth and chin. For entry to performances, all guests 12 years of age and older are asked to provide documentation of a recent negative COVID-19 test with an alternative option of voluntarily presenting documentation of full vaccination. Refunds are available for anyone who submits confirmation of a positive test result in the ten-day period prior to the performance. Performance ticket holders who do not comply with these policies may be required to leave the theater without refund. These health & safety guidelines are available at BrowardCenter.org and will continue to evolve as the environment changes.
The Broward Center for the Performing Arts is located at 201 SW Fifth Ave. in Fort Lauderdale. For more information visit BrowardCenter.org, like us on Facebook at Facebook.com/BrowardCenter and Facebook.com/BrowardCenterEducation, follow us on Twitter and Instagram @BrowardCenter, subscribe to our channel at Youtube.com/user/BrowardCenter and join the conversation with #BrowardCenter.
The Broward Center 2021/2022 season is generously underwritten by the Broward Performing Arts Foundation. AutoNation, Bank of America, Cleveland Clinic Florida, Greater Fort Lauderdale Convention & Visitors Bureau, MasterCard and Sylvester Comprehensive Cancer Center are proud sponsors of the Broward Center. Programs are also sponsored in part by the State of Florida, Department of State, Division of Arts and Culture and the Florida Council on Arts and Culture.
###
About The Broward Center for the Performing Arts
One of America's premier performing arts venues, the Broward Center for the Performing Arts presents more than 700 performances each year to more than 700,000 patrons, showcasing a wide range of exciting cultural programming and events. Guest experiences at the Broward Center include the all-inclusive Spirit Club Level and the Sylvester Comprehensive Cancer Center Intermezzo Lounge, special events in the Huizenga Pavilion, waterfront dining at Marti's New River Bistro and innovative classes and workshops for all ages at the Rose Miniaci Arts Education Center. With one of the largest arts-in-education programs in the United States, the Broward Center serves more than 130,000 students annually. The Broward Performing Arts Foundation, Inc. receives and maintains funds to sustain, develop and secure the future of the Broward Center. The Broward Center for the Performing Arts is located at 201 SW Fifth Ave. in Fort Lauderdale. For more information, visit BrowardCenter.org.
About American National Bank
American National Bank is currently the oldest and largest community bank headquartered in Broward County – celebrating 35 years of building relationships, serving clients, and giving back to the community. The Bank is a 5-Star Rated Bank by Bauer Financial and one of the Top 200 Healthiest Banks in America in 2021 with an A+ Rating by DepositAccounts.com, a subsidiary of LendingTree. The Bank was also named one of the "Top Women-Led Businesses" in the state of Florida for the seventh consecutive year in 2021 by The Commonwealth Institute, and South Florida Business Journal ranked the Bank #1 among banks in South Florida that participated in PPP lending in 2020. Please visit the Bank at 4301 North Federal Highway, Oakland Park, FL 33308 or at americannationalbank.com. American National Bank is not on every corner, but they're always in YOUR corner!