JAMES TAYLOR AND HIS ALL-STAR BAND HEADLINE THE SHOW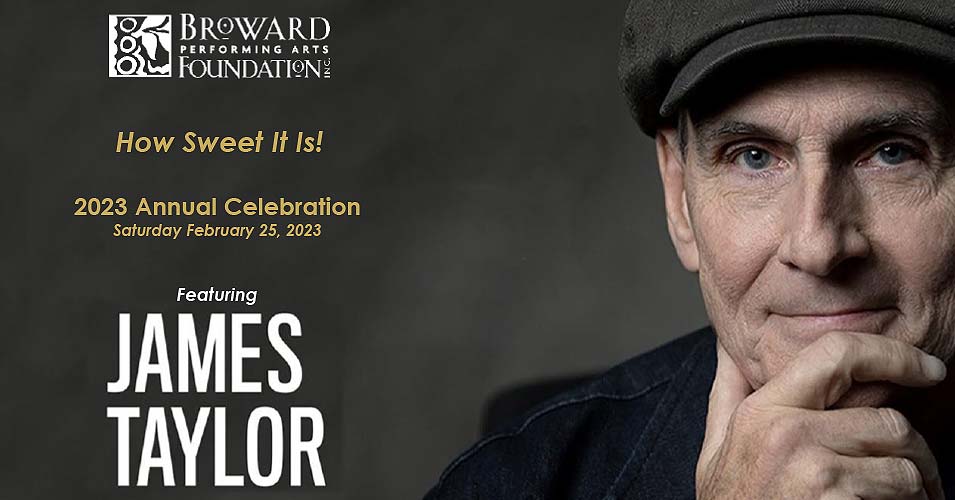 Broward Center audiences enjoyed a rare intimate performance by James Taylor and his All-Star Band at the Broward Performing Arts Foundation's Annual Celebration, presented by Dr. Lee and Brigitte Mandel, South Florida Sinus and Allergy Center. The incomparable Taylor, typically seen in arena performances, took the stage in the Au-Rene Theater and thrilled the cheering, sold out crowd as part of an evening that netted more than $450,000 to support the Broward Center's education and enrichment programs.
Celebration guests in their finest "campfire chic" attire enjoyed a cocktail reception at the Huizenga Pavilion and the Wendt Terraces before moving into the theater for a performance by the six-time GRAMMY Award-winning legend and his All-Star Band, which included his wife and son. Following the performance, guests had their turn onstage where they enjoyed dinner and dancing in the glow of a stylish campfire.
Broward Performing Arts Foundation Chair George Le Mieux addressed guests, highlighting the significant impact of the Broward Center especially in the area of education. "The Broward Center has the largest, free arts-in-education programs in the country. Over the years, it has reached more than 3.5 million students and has been recognized as a model for education programs around the nation," he said.
Last year alone, the Broward Center's education programs served more than 100,000 K-12 students from 175 public schools and delivered programs to more than 500 Head Start preschoolers. More than 50 unique education programs were offered. During that time, the Broward Center also presented more than 700 events, welcomed more than 500,000 visitors, showcased more than 4,700 professional artists and collaborated with more than 100 local cultural and community organizations, all while contributing in excess of $100 million in local economic impact.
Broward Performing Arts Foundation President Lisa Kitei thanked supporters as well as the Foundation board and members of the Performing Arts Center Authority. "We began hosting our Annual Celebration with a Boardwalk Bash in 2009; it attracted 123 guests and netted under $10,000. Over the years, the event has gotten bigger and better and in its 24-year history has raised more than $2.6 million for the Center's education programs thanks to your generous support," she said.
Presenting sponsors Dr. Lee and Brigitte Mandel expressed their gratitude: "The arts have always held a special place in our hearts, and the ability to give the gift of education through support of the Broward Center's outreach programs is something we cherish. Thank you to all at the Broward Center for an amazing celebration, and a special thanks to James Taylor, whose warmth and love shown through to everyone who was fortunate enough to attend."
In addition to the Mandels and South Florida Sinus and Allergy Center, Gold "Fire and Rain" Sponsors were AutoNation, Burdette Beckmann Inc., Ann M. Burris, Linda Haller, Michelle Howland and S. Donald Sussman, The Salah Foundation, Richard and Christine Welch and Deborah and Gary Wendt. Silver "Sweet Baby James" Sponsors included BBX Capital, Jeannette and Marty Engelmann, Leo Goodwin Foundation, Gunster, Hudson Family Foundation, The Ingham Family, Northern Trust, Charlie and Laura Palmer, Lois and John Schmatz, Stiles, Douglas and Linda Von Allmen, Weston Volvo Cars and Weston Nissan and Mark and Linda Wilford. Spirits Sponsor was Southern Glazer's Wine & Spirits, Program Sponsor was Starmark and Invitation Sponsor was Associated Printing Productions Inc.
For more than 30 years, the Broward Performing Arts Foundation has been instrumental in providing support for the Broward Center for the Performing Arts. The Foundation was established in 1985 to deliver the required private funding to build the Center and create an endowment to sustain its operations. Over the years, the Foundation has successfully raised funds to support the Broward Center's innovative and diverse programming, arts-in-education initiatives, community engagement activities and capital projects. The Foundation completed a $30 million capital campaign to renovate and restore the iconic Parker Playhouse. Prior to this, it raised $60 million to complete the Encore! capital campaign to renovate, renew and revitalize the Broward Center.
###
THE BROWARD PERFORMING ARTS FOUNDATION, INC., REGISTRATION NUMBER SC-00882, MEETS ALL REQUIREMENTS SPECIFIED BY THE FLORIDA SOLICITATION OF CONTRIBUTIONS ACT. A COPY OF THE OFFICIAL REGISTRATION AND FINANCIAL INFORMATION MAY BE OBTAINED FROM THE DIVISION OF CONSUMER SERVICES BY CALLING TOLL-FREE WITHIN THE STATE 1-800-435-7352 OR CONTACTING WWW.FLORIDACONSUMERHELP.COM. REGISTRATION DOES NOT IMPLY ENDORSEMENT, APPROVAL, OR RECOMMENDATION BY THE STATE. 100% OF YOUR CONTRIBUTION IS RECEIVED BY THE FOUNDATION.