BROWARD CENTER AND THE PERFORMANCE PROJECT PRESENT "DISNEY'S FINDING NEMO JR."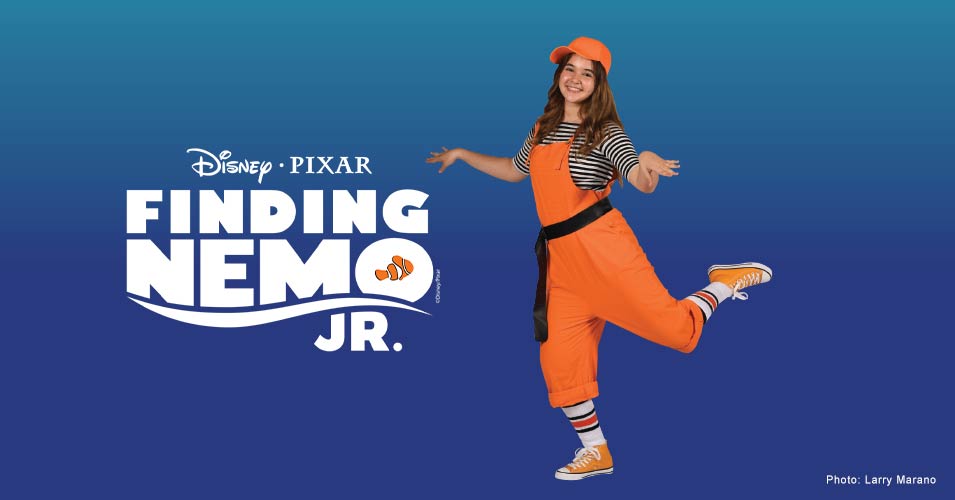 The Broward Center and the Performance Project present the Summer Theater Camp Young Professionals production of Disney's Finding Nemo JR. Thursday, July 6 - Saturday, July 15 including a sensory-inclusive performance on Saturday, July 15.
Performed in the Amaturo Theater by the talented 13 to18-year-old Young Professionals student group, this musical is a 60-minute stage adaptation of the beloved 2003 Pixar movie Finding Nemo, perfect for families and young audiences.
Like their professional counterparts, each actor had to audition for this cast performing a monologue and a show tune for the artistic director. Once accepted, the campers have been in intensive classes and rehearsals to prepare for opening night.
Finding Nemo JR. features new songs written by award-winning composers Kristen Anderson-Lopez and Robert Lopez, who have won Emmy®, Grammy®, Oscar® and Tony® Awards.
Described as plucky, resilient and heartwarming, this musical follows the adventures of Marlin, a timid clownfish, and his son, Nemo. After Nemo is captured on the Great Barrier Reef in Australia and taken to Sydney, he and Marlin face challenges and adventures on their journey to be reunited.
Performances are Thursday and Friday at 10 a.m. and 12 noon; Saturday, July 8 at 11 a.m. and 2 p.m. and Saturday, July 15 at 2 p.m.
For the sensory-inclusive performance Saturday, July 15 at 11 a.m., slight adjustments have been made to the production including reduced sound levels, no flashing or strobe lights and minimal special effects. Sensory-inclusive performances create a welcoming and supportive environment for children and adults on the autism spectrum as well as individuals with other sensitivity issues or developmental challenges. Adjacent to the theater is the ABA Centers of Florida Quiet Room with specially trained volunteers to provide audience support. Audiences will enjoy complimentary pre-show arts and crafts activities provided by Young At Art Museum.
The Broward Center's sensory-inclusive programming is made possible through the generous support of ABA Centers of Florida, The Batchelor Foundation, The Gore Family Memorial Foundation Trust, Nicklaus Children's Hospital and The Taft Foundation with special thanks to UM-NSU CARD for their in-kind support.
Tickets for weekday performances are $10 with $3 lap tickets for children 12 months and younger. Admission to weekend performances is $15 with $5 lap tickets for children 12 months and younger. Tickets to the sensory-inclusive performance are $15 with $10 early bird pricing when purchased at least one week prior to the performance. Lap tickets for children 12 months of age and younger are $5.
Ticketmaster is the only official ticketing service of the Broward Center and Parker Playhouse. Buy tickets online at BrowardCenter.org, or Ticketmaster.com; by phone at 954.462.0222 or in person at the Broward Center's AutoNation Box Office.
The Broward Center for the Performing Arts is located at 201 SW Fifth Ave. in Fort Lauderdale. For more information visit BrowardCenter.org, like us on Facebook at Facebook.com/BrowardCenter and Facebook.com/BrowardCenterEducation, follow us on Twitter and Instagram @BrowardCenter, subscribe to our channel at Youtube.com/user/BrowardCenter and join the conversation with #BrowardCenter.
The Broward Center 2022/2023 season is supported by the Broward Performing Arts Foundation. AutoNation, Greater Fort Lauderdale Convention & Visitors Bureau, Spirit and Sylvester Comprehensive Cancer Center are proud sponsors of the Broward Center. Programs are also sponsored in part by the State of Florida through the Division of Arts and Culture and the National Endowment for the Arts.
About The Broward Center for the Performing Arts
One of America's premier performing arts venues, the Broward Center for the Performing Arts presents more than 700 performances each year to more than 700,000 patrons, showcasing a wide range of exciting cultural programming and events. Guest experiences at the Broward Center include the all-inclusive Spirit Club Level, the Sylvester Comprehensive Cancer Center Intermezzo Lounge, special events in the Huizenga Pavilion, waterfront dining at Marti's New River Bistro and innovative classes and workshops for all ages at the Rose Miniaci Arts Education Center. With one of the largest arts-in-education programs in the United States, the Broward Center serves more than 130,000 students annually. The Broward Performing Arts Foundation, Inc. receives and maintains funds to sustain, develop and secure the future of the Broward Center. The Broward Center for the Performing Arts is located at 201 SW Fifth Ave. in Fort Lauderdale. For more information, visit BrowardCenter.org.
About ABA Centers of Florida
ABA Centers of Florida provides applied behavior analysis (ABA) therapy services to children with autism spectrum disorder through a play-based approach that is rooted in positive reinforcement. The company was designed to disrupt the autism care industry by demolishing wait times traditionally experienced by those in search of a diagnosis or treatment. Its strategically designed behavioral care centers serve the South and Central Florida areas and offer the greatest opportunity for growth to young clients and their families. In-home and in-school treatment are also available to deliver the most impactful continuum of care and to best meet each client's specific needs. More information can be found at https://abacentersfl.com/