BROADWAY RETURNING WITH A SPECTACULAR LINE-UP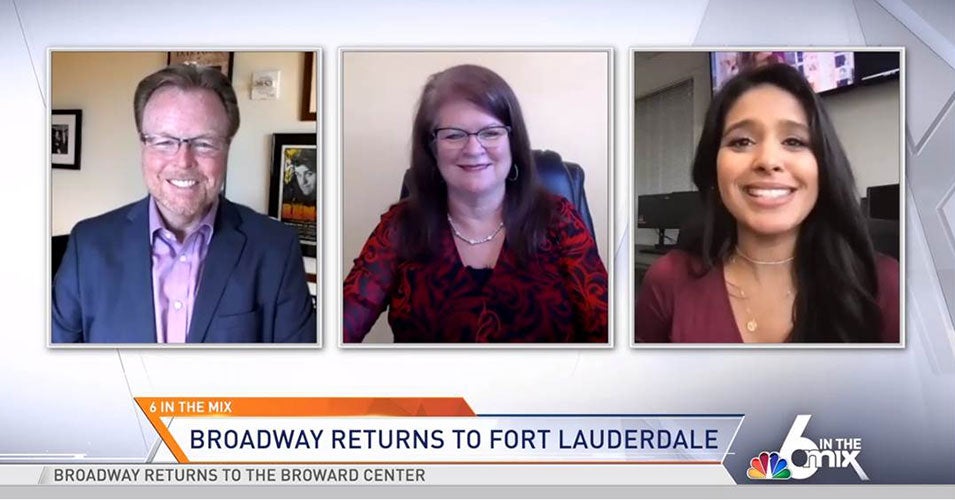 FORT LAUDERDALE, FLORIDA (January 29, 2021) – Broadway in Fort Lauderdale is thrilled to announce that Broadway will be returning to the Broward Center in fall of 2021 with the addition of three Broadway blockbusters, Come From Away, Disney's Frozen, and Ain't Too Proud: The Life and Times of the Temptations to the season lineup.
Current season subscribers will be contacted by email with updated season package information.
The six or seven-show Broadway in Fort Lauderdale package is as follows:
Newly Added: Come From Away – November 3 – 14, 2021
Subscriber Choice: The Prom – December 14 – 19, 2021
Tootsie – January 11 – 23, 2022
Newly Added: Ain't Too Proud: The Life and Times of the Temptations – February 8 – 20, 2022
Newly Added: Disney's Frozen – March 9 – 20, 2022
Subscriber Choice: Cats – April 5 – 10, 2022
Pretty Woman: The Musical – May 4 – 15, 2022
Pretty Woman and Tootsie will remain on the season and have been rescheduled from their original dates. Additionally, Cats has been rescheduled from its original dates and is now a Subscriber Choice option, reducing its performance schedule from two weeks to one week. Hamilton and The Band's Visit are unable to be rescheduled and are now no longer a part of the season. We are working to reschedule them for a future season.
"It's truly exciting to be announcing the return of Broadway to the Au-Rene Theater. There's nothing like the magic of live theater to bring us together, and we look forward with much anticipation to welcoming our Broadway fans back to the Broward Center," said Kelley Shanley, Broward Center President & CEO. "The themes of this season speak to the importance of coming together, something we all are longing for. COME FROM AWAY, which opens the season, artfully touches on inclusion, acceptance and friendship," he added. "And we know that families and kids will be delighted to be reunited for performances when the curtains rise for Disney's FROZEN as well as all of our other shows."
"We're thrilled to be bringing Broadway back to the Broward Center this fall for what will be a spectacular season! We have been working diligently with producers, booking agents, and other national tour representatives to reschedule and rebuild the lineup for the Bank of America Broadway in Fort Lauderdale season," said Susie Krajsa, president of Broadway Across America. "We are so grateful for the support of our subscribers and patrons who have remained steadfast awaiting the return of Broadway to the Broward Center."
COMMITMENT TO HEALTH & SAFETY
The Broward Center has a current health and safety plan in place that has been developed in collaboration with Cleveland Clinic and in accordance with local, state and federal guidelines. This plan will be updated as the environment changes and will be shared with subscribers and patrons well in advance of the first show.
SEASON SUBSCRIPTIONS
Subscriptions for a new six or seven-show package are on sale now at BroadwayInFortLauderdale.com and our guest services team can be reached at 800.764.0700 (M-F, 9am-5pm). Current season ticket holders will automatically be moved into the new show dates.
Subscribers should be aware that the value of their tickets is safe. If anything is to change for any reason and a subscription has been paid in full, a credit, refund or donation opportunity for the value of the subscription will be available.
ABOUT THE SHOWS
Images: https://www.dropbox.com/sh/8o8szi1jk0qwm79/AABty4ZmOULa3SrT1ce6npaqa?dl=0
COME FROM AWAY
November 3 – 14, 2021
Broadway's COME FROM AWAY is a Best Musical winner all across North America!
This New York Times Critics' Pick takes you into the heart of the remarkable true story of 7,000 stranded passengers and the small town in Newfoundland that welcomed them. Cultures clashed and nerves ran high, but uneasiness turned into trust, music soared into the night, and gratitude grew into enduring friendships.
Don't miss this breathtaking new musical written by Tony® nominees Irene Sankoff and David Hein, and helmed by Tony-winning Best Director, Christopher Ashley. Newsweek cheers, "It takes you to a place you never want to leave!" On 9/11, the world stopped. On 9/12, their stories moved us all.
THE PROM
December 14 – 19, 2021
Everyone's invited to the joyous Broadway hit that New York Magazine calls "smart and big-hearted" and The New York Times declares it "makes you believe in musical comedy again!" THE PROM is a new musical comedy about big Broadway stars on a mission to change the world and the love they discover that unites them all.

Variety raves, "It's so full of happiness that you think your heart is about to burst." And The Hollywood Reporter cheers, "It's comic gold!"
You belong at THE PROM!
TOOTSIE
January 11 – 23, 2022
Call it "musical comedy heaven" (Rolling Stone). Call it "the most uproarious new musical in years!" (The Hollywood Reporter). Call it TOOTSIE! This laugh-out-loud love letter to the theater tells the story of Michael Dorsey, a talented but difficult actor who struggles to find work until one show-stopping act of desperation lands him the role of a lifetime. Featuring a hilarious Tony®-winning book by Robert Horn and an outrageously clever score by 2018 Tony-winner David Yazbek (THE BAND'S VISIT, DIRTY ROTTEN SCOUNDRELS), this New York Times Critic's Pick is "a joyful delight" (The Washington Post) that's "so packed with punchlines, it should be called a jokebox musical!" (Bloomberg). "In these turbulent times, when the world seems out of balance, we need a place to let the good times roll," raves Rolling Stone. "TOOTSIE is it!"
AIN'T TOO PROUD: THE LIFE AND TIMES OF THE TEMPTATIONS
February 8 – 20, 2022
AIN'T TOO PROUD – The Life and Times of The Temptations is the electrifying new smash-hit Broadway musical that follows The Temptations' extraordinary journey from the streets of Detroit to the Rock & Roll Hall of Fame.
The winner of the 2019 Tony Award for Best Choreography, it's a thrilling story of brotherhood, family, loyalty, and betrayal during a decade of civil unrest in America. Set to the beat of the group's treasured hits, including "My Girl," "Just My Imagination," "Get Ready," "Papa Was a Rolling Stone," AIN'T TOO PROUD tells the unforgettable story of the legendary quintet that Billboard Magazine named the greatest R&B group of all time.
Disney's FROZEN
March 9 – 20, 2022
From the producer of The Lion King and Aladdin, FROZEN, the Tony®-nominated Best Musical, is now on tour across North America and the critics rave, "It's simply magical!" (LA Daily News). Heralded by The New Yorker as "thrilling" and "genuinely moving," FROZEN features the songs you know and love from the original Oscar®-winning film, plus an expanded score with a dozen new numbers by the film's songwriters, Oscar winner Kristen Anderson-Lopez and EGOT winner Robert Lopez. Oscar winner Jennifer Lee (book), Tony and Olivier Award winner Michael Grandage (director), and Tony winner Rob Ashford (choreographer) round out the creative team that has won a cumulative 16 Tony Awards. An unforgettable theatrical experience filled with sensational special effects, stunning sets and costumes, and powerhouse performances, FROZEN is everything you want in a musical: It's moving. It's spectacular. And above all, it's pure Broadway joy.
CATS
April 5 – 10, 2022
CATS, the record-breaking musical spectacular by Andrew Lloyd Webber that has captivated audiences in over 30 countries and 15 languages, is now on tour across North America!
Audiences and critics alike are rediscovering this beloved musical with breathtaking music, including one of the most treasured songs in musical theater—"Memory". Winner of 7 Tony Awards® including BEST MUSICAL, CATS tells the story of one magical night when an extraordinary tribe of cats gathers for its annual ball to rejoice and decide which cat will be reborn. The original score by Andrew Lloyd Webber (The Phantom of the Opera, School of Rock, Sunset Boulevard), original scenic and costume design by John Napier (Les Misérables), all-new lighting design by Natasha Katz (Aladdin), all-new sound design by Mick Potter, new choreography by Andy Blankenbuehler (Hamilton) based on the original choreography by Gillian Lynne (Phantom) and direction by Trevor Nunn (Les Misérables) make this production a new CATS for a new generation!
PRETTY WOMAN: The Musical
May 4 – 15, 2022
After an incredible run on Broadway, Audience Choice Award-winner PRETTY WOMAN: The Musical is now on tour! One of Hollywood's most beloved stories of all time, PRETTY WOMAN: The Musical is brought to life by a powerhouse creative team representing the best of music, Hollywood, and Broadway. Featuring direction and choreography by two-time Tony Award® winner Jerry Mitchell (HAIRSPRAY, KINKY BOOTS, LEGALLY BLONDE), an original score by Grammy® winner Bryan Adams and Jim Vallance ("Summer of '69", "Heaven"), and a book by the movie's legendary director Garry Marshall and screenwriter J.F. Lawton, PRETTY WOMAN: The Musical will lift your spirits and light up your heart. "If you love the movie, you'll love the musical!" (BuzzFeed News).
# # #
THE BROWARD CENTER FOR THE PERFORMING ARTS
The Broward Center for the Performing Arts is one of America's premier performing arts venues, consistently ranked among the top ten in the country. Presenting more than 700 performances each year to more than 700,000 patrons, the Broward Center showcases a wide range of exciting cultural programming and events and offers one of the largest arts-in-education programs in the United States, serving more than 130,000 students annually.
The Broward Performing Arts Foundation, Inc. receives and maintains funds to sustain, develop, and secure the future of the Broward Center. The Broward Center for the Performing Arts is located in the Riverwalk Arts & Entertainment District at 201 SW Fifth Ave. in Fort Lauderdale. For more information, visit