Home

/

Education: Adults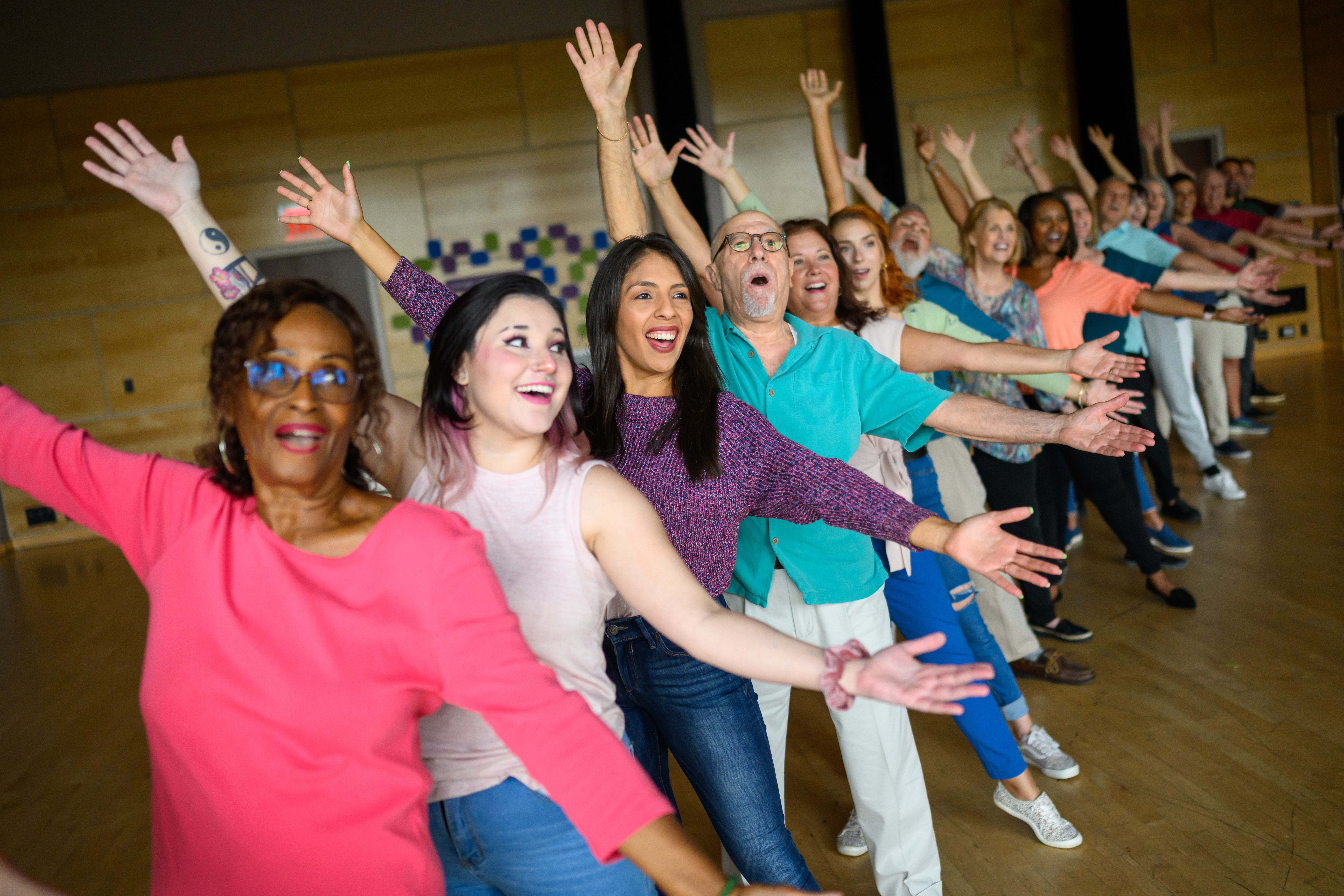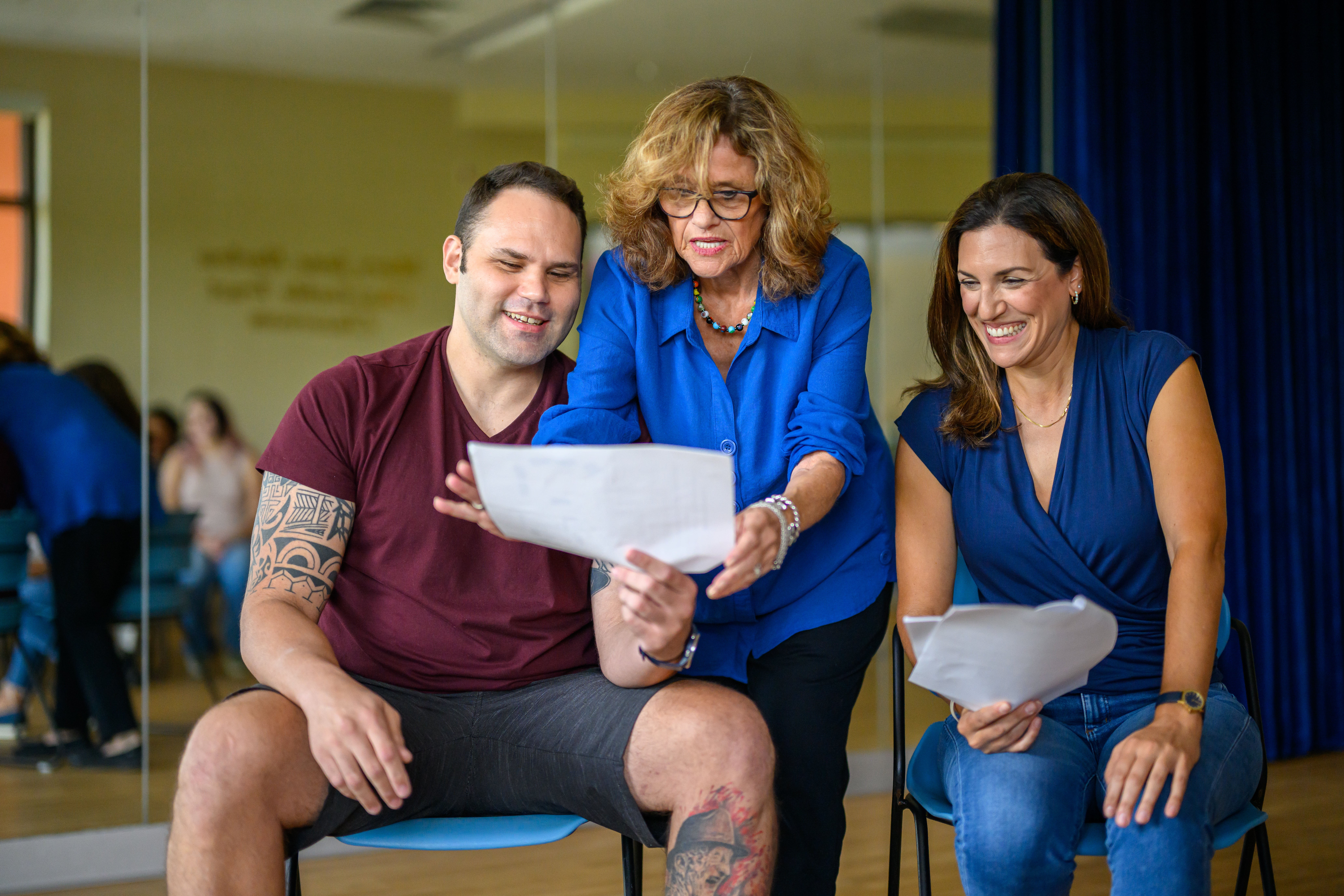 ADULT SINGING: BREATHWORK
WEDNESDAYS 7:45–9:00 PM | $235
Class dates: Sep 13-Nov 15, 2023
Learn to strengthen your voice while having fun and singing. Whether you're a seasoned vocalist or a beginner with a passion for music, this class is designed to unleash the full potential of your voice and elevate your singing skills through specialized breathwork techniques focusing on breath awareness and control, vocal endurance and expressive performance. At the end of the session, you'll learn how to extend your vocal range and stamina, how to exercise precise control over inhalation and exhalation and get a better sense for your breath's connection to sound production. Floorwork will be required for this class. You may bring a yoga mat or one can be provided for you.
Teaching artist: Artist-in-Residence Tammy Holder, Certified Breathwork Instructor and Vocal Performer Erin Dahlgren
ADULT COMEDY IMPROV
MONDAYS 7:45–9:15 PM | $235
Class dates: Sep 11-Nov 27, 2023
Skip dates: Sep 25, Nov 20
Comedy Improv is a fun introduction to the world of improv for beginning improvisers, as well as an opportunity for the more experienced improviser to refresh and hone their skills. Classes consist of warm-ups and light skill work and include both "Whose Line Is It Anyway"-style and scene-based improv game play. Students leave with a greater understanding of the basic tenets of improv and are encouraged to unleash their creative genius. Course study has an emphasis on solid skills coupled with fun!
Teaching artist: Greg Philippi
ADULT IMPROV FOUNDATIONS
THURSDAYS 7:00–8:30 PM | $235
Class dates: Sep 14-Nov 16, 2023
What's the story? Students build solid improv skills while having fun in this beginner to intermediate class. In addition to reviewing basic improv skills, this class has an added focus on storytelling, creating worlds and character building. This class includes warm-ups, light skill work, games and scene-based improv.
Teaching artist: Greg Philippi
ADULT ACTING: TRY IT!
MONDAYS 6:30–7:30 PM | $210
Class dates: Sep 11-Nov 27, 2023
Skip dates: Sep 25, Nov 20
You've always wanted to step out on the stage, so just try it! Learn the fundamentals of acting in a nurturing atmosphere. Participate in physical and vocal warm-ups, improvisation, theater games and more. Bring attention to your listening and observation skills and learn how to "take the stage" in this relaxed and fun acting class.
Teaching Artist: Gail Garrisan
ADULT ACTING FOUNDATIONS
WEDNESDAYS 6:30–8:00 PM | $235
Class dates: Sep 13-Nov 15, 2023
Stretch your acting abilities, strengthen your instincts and explore more complex material through improvisation, movement and voice in this intermediate acting class. Develop techniques to build a full-bodied, compelling character from the inside out using monologues and scene work. This class increases skills and self-awareness as students build on the foundations of the acting process in a collaborative and creative environment. Family and friends are invited to attend a showcase at the end of the session.
Teaching artist: Lori Sessions
ADULT ACTING: SCENE STUDY
TUESDAYS 6:45–8:45 PM | $260
Class dates: Sep 12-Nov 28, 2023
Skip dates: Oct 31, Nov 21
Adult Scene Study class is for serious students interested in building their craft as they further their understanding of script analysis and character development, a.k.a. "the actor's homework." Students dig into more complex material through analysis, exercises, and movement in this advanced scene study class. Breath, body, and the intellect are explored as character details and specificity are created. This class increases skills and self-awareness and prepares students for entry into the professional acting community. Meeting with scene partner outside of class is required.

Teaching artist: Jessica Sanford
Register Now: Teacher assessment is required for consideration of enrollment. Please, email jessicabsanford@gmail.com for teacher assessment. A class registration link will be included in the acceptance email from the teacher.
ADULT BROADWAY DANCE
WEDNESDAYS 7:00–8:15 PM | $225
Class dates: Sep 13-Nov 15, 2023
Adult Designed for adults who want to DANCE! Broadway dance is the focus of this high energy class. Taught by an experienced choreographer, Broadway Dance is the perfect class to help you stay fit while learning basic steps and explosive choreography from some of Broadway's greatest shows. Spread the word, bring a friend, and take advantage of this opportunity to embrace your inner dancer. No prior experience required. All dance levels welcome.

Teaching artist: Ven Daniel
ADULT MUSICAL THEATER SINGING
THURSDAYS 6:30–7:45 PM | $225
Class dates: Sep 14-Nov 16, 2023
Come and sing! Designed for adults who enjoy singing Broadway show tunes and wish to improve vocal technique, this class uses musical theater songs to teach proper vocal production, breath control and how to act out a song. No previous singing experience is necessary as students learn group numbers in a supportive environment. Participants perform in a showcase at the end of the session.
Teaching artist: Tammy Holder
ADULT MUSICAL THEATER EXPERIENCE
THURSDAYS 8:00–9:30 PM | $250
Class dates: Sep 14-Nov 16, 2023
Adult Musical Theater Experience is for the Broadway Musical Super Fan! In this class, students explore all aspects of musical theater including solo and ensemble singing, scene work and musical theater improv! There is something for every musical theater performer as students work individually and in groups to develop their skills in a safe and nurturing environment. This class culminates with a showcase for family and friends.
Teaching artists: Tammy Holder and guest teaching artists