2017/2018 Miami City Ballet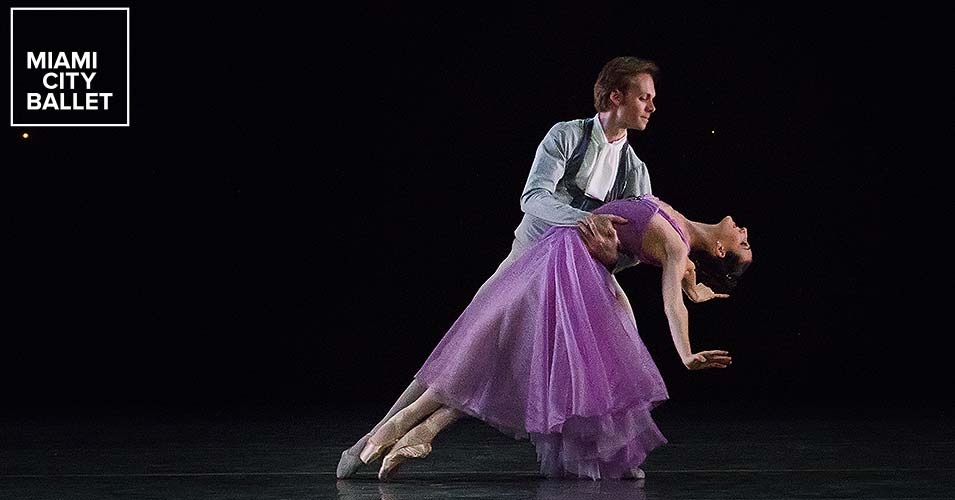 Program One opens with a Balanchine masterpiece created 50 years ago – the full-length Jewels, a triptych of ballet at its most glamorous. First, "Emeralds" – set to the lush music of Gabriel Fauré, is Balanchine at his most romantic and lyrical. Next, "Rubies" – glittering, witty, jazzy: the Balanchine-Igor Stravinsky partnership at its most scintillating. Finally, "Diamonds"– Balanchine reaching back with Tchaikovsky to the classic grandeur of 19th-century Russian ballet at its imperial height.
Program Two is a Robbins Celebration in honor of the 100th birthday of legendary choreographer Jerome Robbins with an entire program of his work, including three company premieres and two returning favorites. For New York City Ballet's (NYCB) famous Stravinsky Festival in 1972, Robbins concocted Circus Polka to celebrate the great composer. MCB will pay similar homage by premiering this enchanting pièce d'occasion. In Other Dances, he created a lyrical and charming extended duet for the reigning stars of classical ballet: Mikhail Baryshnikov and Natalia Makarova. It was a sensation! Finally, the first hit Robbins created for NYCB more than 65 years ago, The Cage, which still shocks with its deadly female and fierce community of voracious creatures.
Returning are In the Night, demonstrating three stages of love—flirtation, passion and intimacy—experienced through three pas de deux danced against a star-studded night sky; and West Side Story Suite, back by popular demand, with its show-stopping music by Leonard Bernstein. MCB's own Sharks and Jets rumble, fall in love, dance and sing in this abbreviated version one of the greatest, and best loved, of all Broadway musicals.
Program Three features the lavish Theme and Variations, set in a spectacular 19th-century ballroom to the soaring music of Tchaikovsky. This is classical ballet at its grandest, with dancing that is technically demanding yet joyous and serene, and with a thrilling finale. Another Robbins favorite The Concert (Or, The Perils of Everybody) returns – universally acclaimed as the funniest of all comic ballets, a lighthearted exploration of unspoken human impulses and fantasies.
Finally: In the wake of his triumphant The Fairy's Kiss, Program Four brings the company premiere of Alexei Ratmansky's Concerto DSCH, an amazingly inventive and exciting ballet, set to a seething Dmitri Shostakovich piano concerto. Alastair Macaulay in The New York Times had this to say: "Its dances pour forth in a continuous stream of galvanizing excitement and affectionate intimacy…The most captivating classical ballet I have seen in years."
---
Pre-show lectures one hour prior to showtime for Programs One through Four. Late seating holds vary by program. Late comers will be seated at the discretion of Front of House ushers.
Official Miami City Ballet Site
Events
Broward Center
Presented by Miami City Ballet