Florida Grand Opera Season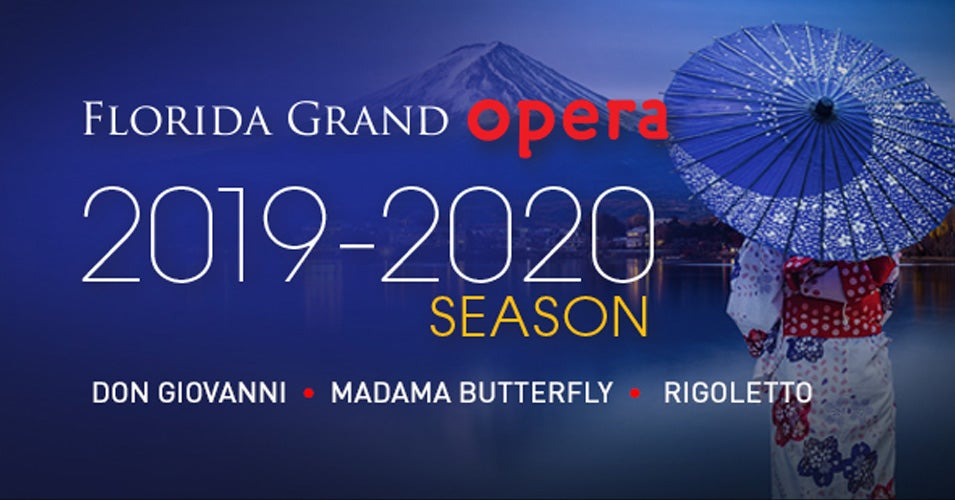 Don Giovanni
by WOLFGANG AMADEUS MOZART
Don Giovanni is the story of the world's greatest lover, Don Juan, a young, arrogant, and charismatic aristocrat, who will stop at nothing to fulfill his ravenous lust. But when a midnight seduction ends in murder, Don Giovanni soon finds himself pursued on all sides by those he has wronged in the past. This masterwork is a brilliant combination of an engrossing story of seduction and vengeance set to the lavishly orchestrated musical genius of Mozart.
Madama Butterfly
by GIACOMO PUCCINI
A love affair goes horribly wrong in a fateful meeting of East and West. Set in 1890's Japan, Puccini's heartbreaking story of betrayal portrays an American naval officer as he marries a young Japanese girl only to abandon her and force her to make the ultimate sacrifice. A devastating saga of devotion, tradition, and sacrific —and one of the most beloved operas of all time.
Rigoletto
by GIUSEPPE VERDI
The grand master of opera, Giuseppe Verdi, ramps up his musical and dramatic intensity in this masterpiece. A jester makes cruel sport of courtiers whose wives and daughters are seduced by the Duke until his own young daughter falls victim. The dishonored jester plots a savage revenge, but he loses everything when he is double-crossed, and his plan goes fatally awry. One of Verdi's most powerful scores brings this intensely moving drama to life—and death.
Sung in Italian with English and Spanish projected translations