Arts Ballet Theatre of Florida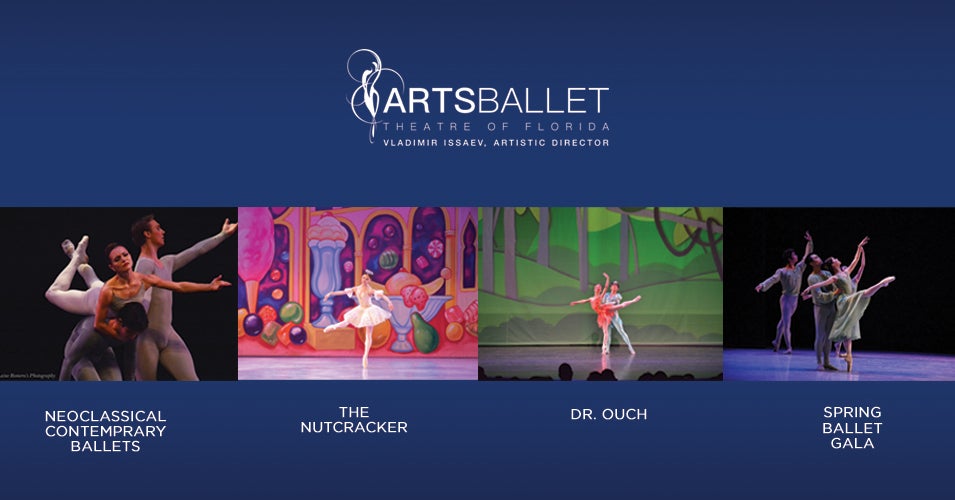 Under the artistic direction of Vladimir Issaev, Arts Ballet Theatre of Florida has planned an exciting and challenging ballet season for new and returning audiences alike to discover in the 2019/2020 season.
The season opens in October with the thrilling presentation of Neoclassical & Contemporary Ballets featuring works such as "Eros Game," "Fuega Con Pajarillo," and "Four Seasons". In December, the company performs the beloved "Nutcracker" a creative and exciting production by Vladimir Issaev.
March, Arts Ballet Theatre will perform the favorite "Dr. Ouch!," based on the poems of Komei Chukovsky about a doctor who cures animals.
Finally in April the company closes the season with the "Spring Gala," offering audiences an amazing display of virtuosity by our professional dancers showcasing a program of the most challenging classical ballet pieces.
Take advantage of early bird pricing by purchasing by August 30, 2019.
Each show in this series is sold separately.
Events
Broward Center
Vladimir Issaev, Artistic Director
Broward Center
Vladimir Issaev, Artistic Director