2019/2020 Slow Burn Theatre Company Season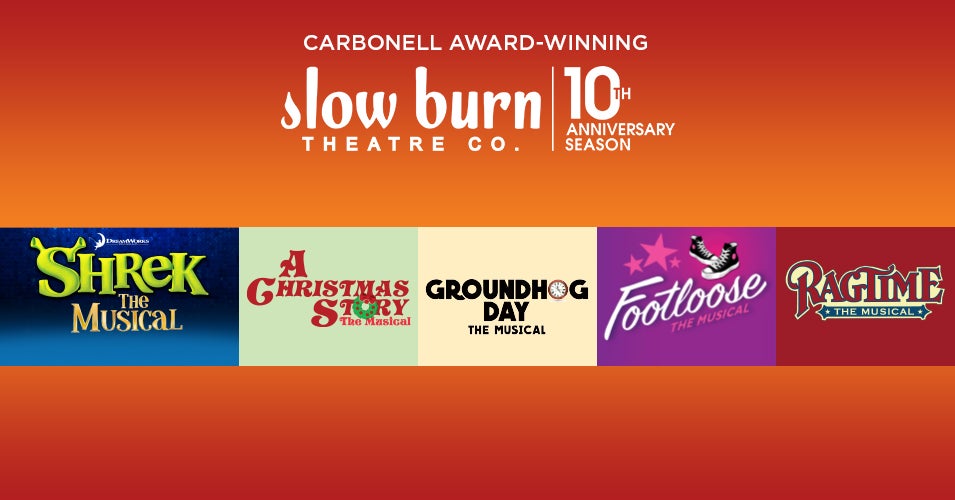 RENEWAL DEADLINE, FEBRUARY 22
NEW SUBSCRIPTIONS BEGIN MARCH 25
4-Show Subscription Packages start at $166.60
Including Shrek, A Christmas Story, Groundhog Day, Ragtime
5-Show Subscription Packages start at $196.00
Including Shrek, A Christmas Story, Groundhog Day, Ragtime and Footloose
Subscribe now and save on this exciting 2019/2020 season. When you subscribe, you receive all the benefits below, as well as the first opportunity to purchase Abdo New River Room specials which will be announced March 25, 2019. That means you'll get the best access to seats before they go on sale to the general public! And, don't forget about our Wednesday Matinee Performances, which are moving to 11:00 AM.
4-Show and 5-Show Season Subscribers Enjoy…
* Guaranteed same seats each performance
* Save up to $70 over single ticket prices**
* Service Charge Savings
* Ticket Exchange Options
**Savings subject to price level of subscription.
AMATURO THEATER
Shrek The Musical October 25 - November 10, 2019
A Christmas Story, The Musical December 13 - 29, 2019
Groundhog Day The Musical January 31 - February 16, 2020
Ragtime March 20 - April 5, 2020
Footloose June 5 – 21, 2020
Slow Burn Subscription Customer Service can be reached at 954.468.3280, Monday through Friday, 10:00 AM to 5:00 PM. Voicemail message will be returned within 2 business days.
Design Your Own Subscriptions (available starting May 13)
Customize your own Slow Burn Theatre Co season! Select at least three titles from the 7 shows available in the 2019/2020 season in either the
Amaturo Theater or the Abdo New River Room, and save 10% on each ticket.
Pick any performance and any available seat, and save. It's that easy!
ABDO NEW RIVER ROOM
Titles and Dates To Be Announced Soon
SIGN UP TO RECEIVE THE LATEST SEASON ANNOUNCEMENTS
MON.– FRI., 10:00 AM-5:00 PM
Voicemail messages will be returned within 2 business days.