Dance Series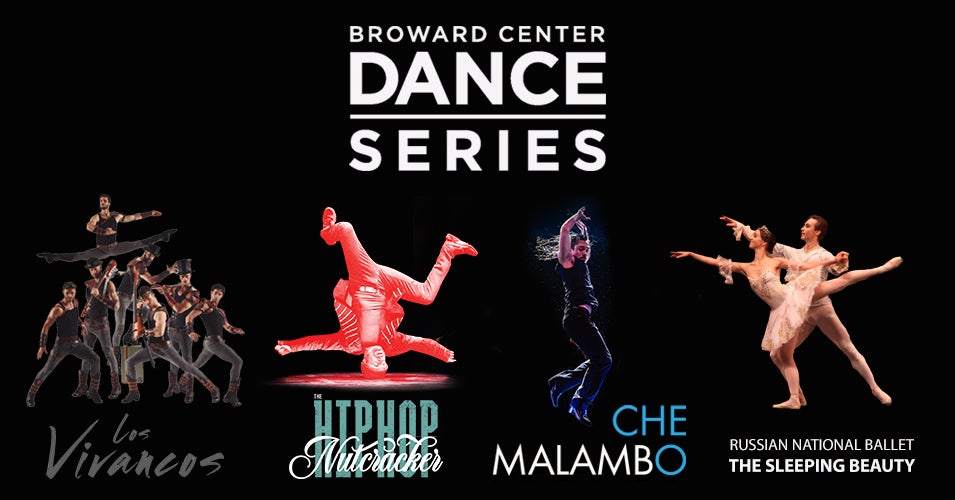 The 2019/2020 Dance Series features the best of both classical and contemporary ballet and international dance styles. From traditional favorites to vibrant cutting-edge performances, bask in the stylish choreography and masterful storytelling of the Russian National Ballet's The Sleeping Beauty; experience a contemporary ballet spectacle set to Tchaikovsky's timeless music with Hip Hop Nutcracker; be mesmerized by the flamenco fusion of Los Vivancos from Spain and experience the percussive dance and music spectacle of Argentina's Che Malambo.
SAVE up to 25% WHEN YOU BUY 2 OR MORE SHOWS!
Design-Your-Own Tickets:
Sign in to access your account.
If you need to reset your password, click SIGN IN, then FORGOT PASSWORD and follow the prompts.
Contact Broward Center for DYO Services
954.468.3280 | Monday – Friday | 10:00 AM – 5:00 PM
Email: [email protected]
Messages will be returned within 2 business days.
To become a member of the Broward Center with access to great seats and pre-sales, call 954.468.2681 or visit BrowardCenter.org/Entourage today.
For group discounts, call Group tickets at 954.660.6307 or visit BrowardCenter.org/group-tickets.
Artists, dates, times, programs and prices subject to change without notice. All sales final.
Events
Parker Playhouse
2019/2020 BROWARD CENTER DANCE SERIES
Parker Playhouse
2019/2020 BROWARD CENTER DANCE SERIES