Home

/

Education: Middle School (Grade 6–8)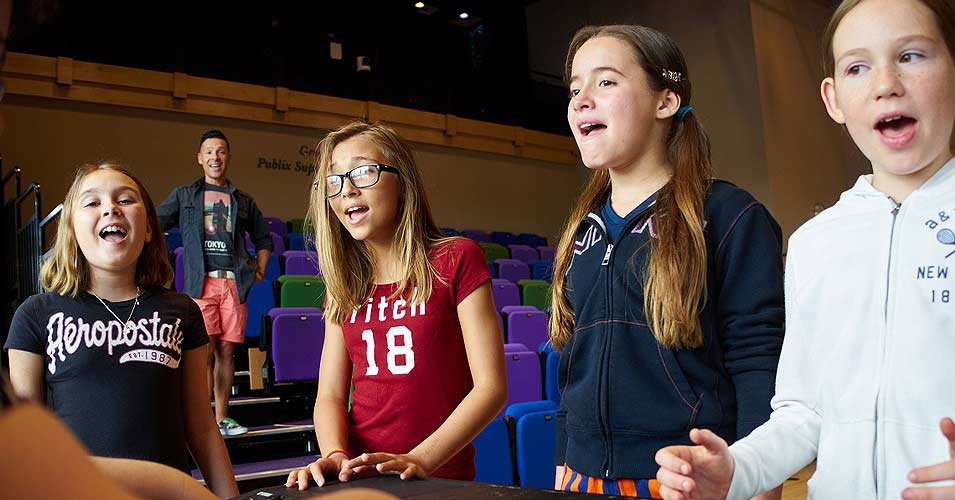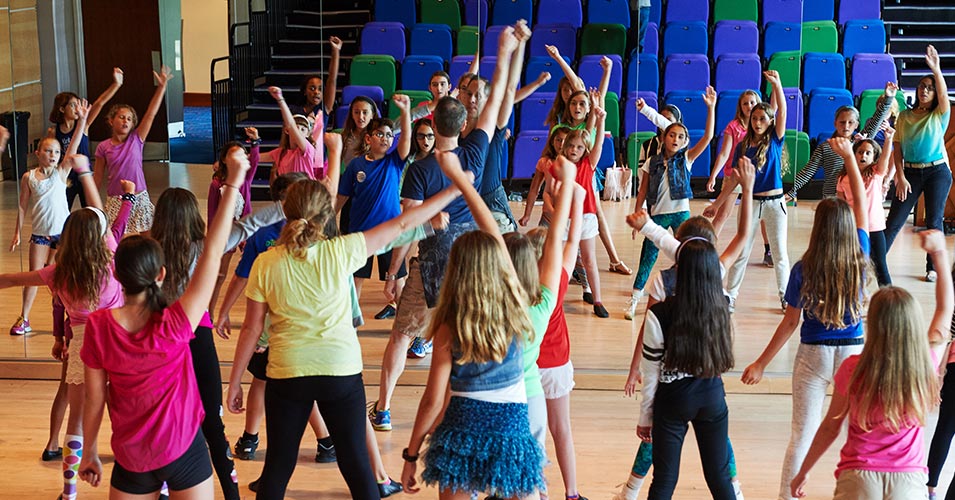 MIDDLE SCHOOL
(Grades 6 – 8)
BROWARD CENTER SPOTLIGHTS
Grades 6–12 | By audition only
Saturdays 12:30 PM – 2:30 PM | $350
Class dates: 1/11 - 3/14
Show Dates: 3/15
Broward Center Spotlights is a youth vocal ensemble perfect for students who love to sing in front of an audience. This audition-based musical theater program trains students to perform solos, duets and group numbers along with choreography for various Broward Center and community events. Past appearances include popular local events, television and community showcases, onstage shows and more. Team-taught by a professional music director and choreographer, students gain top-tier instruction in song and dance, musicianship, improved vocal technique and song interpretation while building dance skills and stage presence. Class fee includes a Broward Center Spotlights t-shirt and two tickets to the Spring Spectacular show in March at the Parker Playhouse.
Teaching artists: Tammy Holder and TJ Tekurio
ADVANCED MUSICAL THEATER WORKSHOP: THE PILOT PRODUCTION OF

SOMETHING ROTTEN JR.
Grades: 4–12 | By audition only
Be part of this unique and exciting opportunity!
Winter Session
Saturdays 9:00 AM – 12:00 PM | $450
Class dates: 1/11 - 3/14
Additional Rehearsals: 4/4, 4/13, 4/15, 4/18, 4/20, 4/22
Show dates: 4/23, 4/24, 4/25
The Broward Center has been selected by Music Theater International (MTI) to produce a pilot production of Something Rotten Jr. As one of the first theaters in the country to produce the junior version of the hit Broadway show (prior to the show's official release), we are offering students this unique opportunity to be part of the pilot production. In the spring session of Advanced Musical Theater Workshop: Something Rotten Jr., students continue to develop their musical theater skills while rehearsing for the pilot production of Something Rotten Jr. The rehearsals will culminate in three performances of the pilot production in April 2020 in the Amaturo Theater. As part of the creation and editing process, all scripts, roles, scenes and characters are subjected to change at any time prior to the final performance.
Teaching Artists: Tammy Holder and TJ Tekurio
YOUTH SPRING MUSICAL: LEGALLY BLONDE JR.
Grades: 4 - 7
Mondays 6:00 PM–9:00 PM | $385
Class dates: 1/13 - 4/13
Skip dates: 1/20, 2/17, 3/23
Mandatory or Final Rehearsal: 4/27, 4/28
Show dates: 4/29, 4/30
Grades: 8 - 12
Mondays 6:00 PM–9:00 PM | $385
Class dates: 1/17-4/17
Skip dates: 2/14, 3/27, 4/10
Mandatory or Final Rehearsal: 4/27, 4/28
Show dates: 4/29, 4/30
In an all-encompassing theatrical experience, students learn acting, singing and dancing as well as production disciplines such as costumes, props, make-up and staging and use these skills to put on a final show in the Abdo New River Room. Based on the award-winning Broadway musical and the smash hit motion picture, Legally Blonde JR. is a fabulously fun journey of self-empowerment and expanding horizons with instantly recognizable songs, humor and sass. This class is offered in partnership with The Performance Project School of the Arts. Fee includes script and basic costume.
Teaching artists from The Performance Project, Inc.
Becoming an Actor
Grades: 8–12
Tuesdays 6:15 PM - 7:30 PM | $350
Class dates: 1/14 - 3/17
What does it take to become an actor? This intermediate acting and audition prep class prepares developing actors to take their artistry to the next level by first honing foundational acting skills (including voice and diction, physicality, and character analysis) through application in scene and monologue work. Students then learn how to best prepare for another important component of an actor's life – the audition – through practice and instruction in various audition formats. Students leave with great experience and a portfolio of audition materials, including a professional headshot.
Teaching artists: Michelle Terl
Students should have experience in theater and 2-3 monologues.
MUSICAL THEATER EXPERIENCE: THE BROADWAY SEASON
Grades: 6–9
Wednesdays 6:15 PM–7:30 PM | $310
Class dates: 1/15 - 3/18
Get ready to experience the Broward Center's Broadway season through song and dance. In this fun and unique class, students sharpen their singing, dancing and acting techniques using songs and choreography from shows in our popular 2019-2020 Broadway season. Shows featured this season include Mean Girls, Aladdin, Les Mis and Bandstand. A different show is featured each week.
Teaching Artists: Tammy Holder and Ron Hutchins