Home

/

Education: Middle School (Grade 6–8)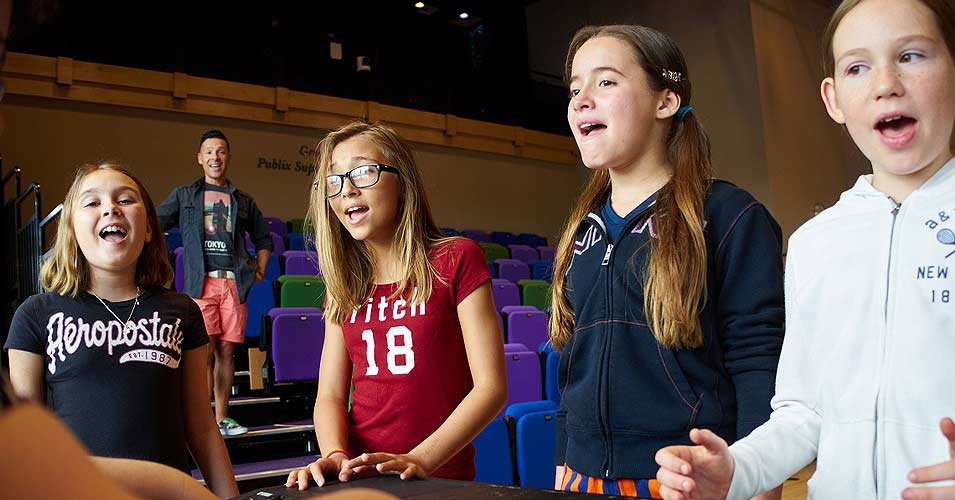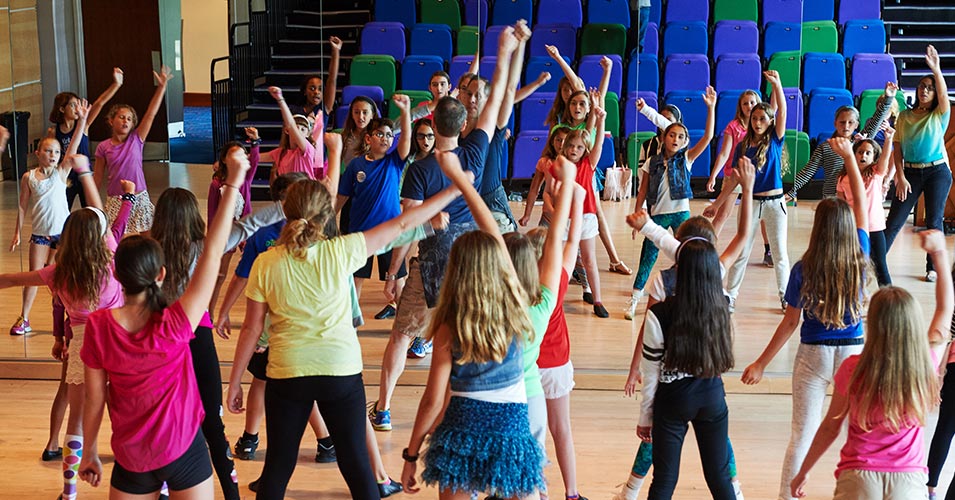 MIDDLE SCHOOL
(Grades 6 – 8)
BROWARD CENTER SPOTLIGHTS
Grades 6–12 | By audition only
Saturdays 12:30 PM – 2:30 PM | $350
Class dates:9/14-11/16
Broward Center Spotlights is a youth vocal ensemble perfect for students who love to sing in front of an audience. This audition-based musical theater program trains students to perform solos, duets and group numbers along with choreography for various Broward Center and community events. Past appearances include popular local events, television and community showcases, onstage shows and more. Team-taught by a professional music director and choreographer, students gain top-tier instruction in song and dance, musicianship, improved vocal technique and song interpretation while building dance skills and stage presence. Class fee includes a Broward Center Spotlights t-shirt.
Teaching artists: Tammy Holder and TJ Tekurio
ADVANCED MUSICAL THEATER WORKSHOP: THE PILOT PRODUCTION OF TBD
Grades: 4–12 | By audition only
Be part of this unique and exciting opportunity!
FALL Session—
Saturdays 9:30 AM – 11:30 AM | $360
Class dates: 9/14-11/16
The Broward Center has been selected by Music Theater International (MTI) to produce a pilot production of an upcoming MTI Title. As one of the first theaters in the country to produce the junior version of an upcoming hit Broadway show (prior to the show's official release), we are offering students this unique opportunity to train as part of the pilot process. In the fall, students strengthen techniques in singing, dancing and acting in an advanced setting that will prepare them to audition for the Pilot Production in the spring. Fall students improve their singing by learning proper diction and projection techniques, how to harmonize and develop a character through song. Students also refine basic musical theater dance steps, explore physical awareness on stage and develop ability to quickly learn choreography. Students present the pilot performance of the selected MTI title onstage in the Amaturo Theater in the spring. All students must audition to be cast in the spring pilot production. Teaching Artists: Tammy Holder and TJ Tekurio
Teaching Artists: Tammy Holder and TJ Tekurio
YOUTH FALL MUSICAL: THE ADDAMS FAMILY
Grades: 4–10
Mondays 6:00 PM–9:00 PM | $385
Class dates: 9/16-12/16
Skip dates: 9/30, 11/11, 12/2
Rehearsals: 12/15
Show dates: 12/17 and 12/18
In an all-encompassing theatrical experience, students learn acting, singing and dancing as well as production disciplines such as costumes, props, make-up and staging and use these skills to put on a final show. The Addams Family is the smash-hit musical comedy that brings the darkly delirious world of Gomez, Morticia, Uncle Fester, Grandma, Wednesday, Pugsley and, of course, Lurch to spooky and spectacular life. With an infectious and unforgettable score, this musical is sure to entertain. This class is offered in partnership with The Performance Project School of the Arts. Fee includes script and basic costume.
Teaching artists from The Performance Project, Inc.
AUDITION PREP:MUSICAL THEATER SINGING
Grades: 8–12
Tuesdays 7:00 PM–8:30 PM | $450
Class dates: 9/10-11/19
Skip date: 10/8
Are you ready for your next audition? This class will help you develop the skills needed to be successful at a musical theater audition with the direction of professional theater performers. Students receive guidance on song selection, song performance and interpretation, audition etiquette and how to handle the audition with professionalism. Throughout the session, students showcase what they've learned in front of various guest artists and theater professionals who provide feedback on their performances. Students leave with a selection of songs, professional headshot, resume and audition video, as well as greater confidence for their next audition!
Teaching artists: Tammy Holder and guest artists
Students must have experience in musical theater and a repertoire of 2-4 songs.
MUSICAL THEATER EXPERIENCE: THE BROADWAY SEASON
Grades: 6–9
Wednesdays 6:15 PM–7:30 PM | $310
Class dates:9/11 – 11/20
Skip date:10/9
Get ready to experience the Broward Center's Broadway season through song and dance. In this fun and unique class, students sharpen their singing, dancing and acting techniques using songs and choreography from shows in our popular 2019-2020 Broadway season. Shows featured this season include Mean Girls, Aladdin, Les Mis and Bandstand. A different show is featured each week.
Teaching Artists: Tammy Holder and Ron Hutchins
PERFORMANCE MENTOR PROGRAM: ANNIE
Grades 3–12 | By audition only | $385
THURSDAYS 6:00 PM – 9:00 PM
Class dates: 9/12 – 11/21
Skip dates: 10/31

SATURDAYS 3:30 PM – 6:30 PM
Class dates: 9/14-11/16

Rehearsal dates: 11/22, 11/23, 12/1, 12/3-12/5
Show Dates: 2/5, 2/6, 2/7
Advanced techniques in acting, singing and dance are integrated into the rehearsal process and culminate in a full-length musical production. The irrepressible comic strip heroine takes center stage in one of the world's best-loved musicals. Join little orphan Annie in a fun-filled adventure through New York City as she searches for the parents who abandoned her years ago on the doorstep of an orphanage. Fee includes script and costumes. This class is offered in partnership with The Performance Project School of the Arts.
Teaching artists from The Performance Project, Inc.