Home

/

Education: Middle School (Grade 6–8)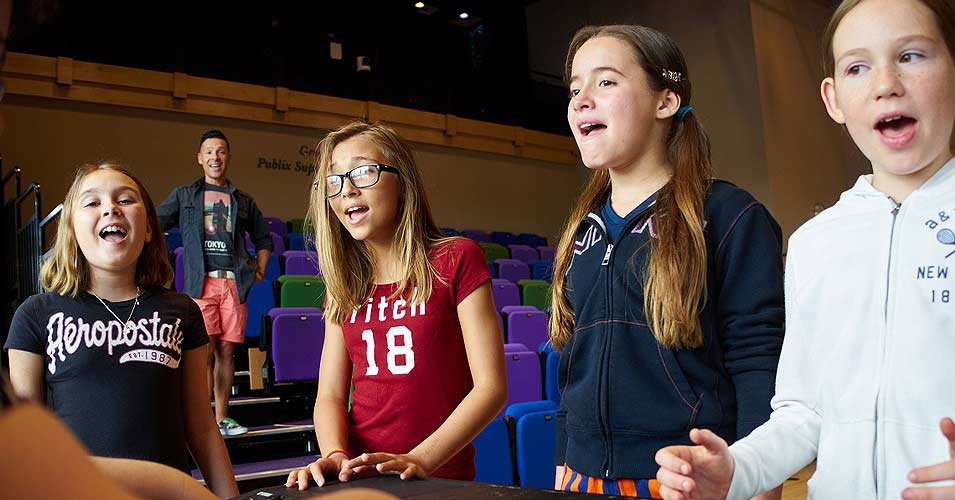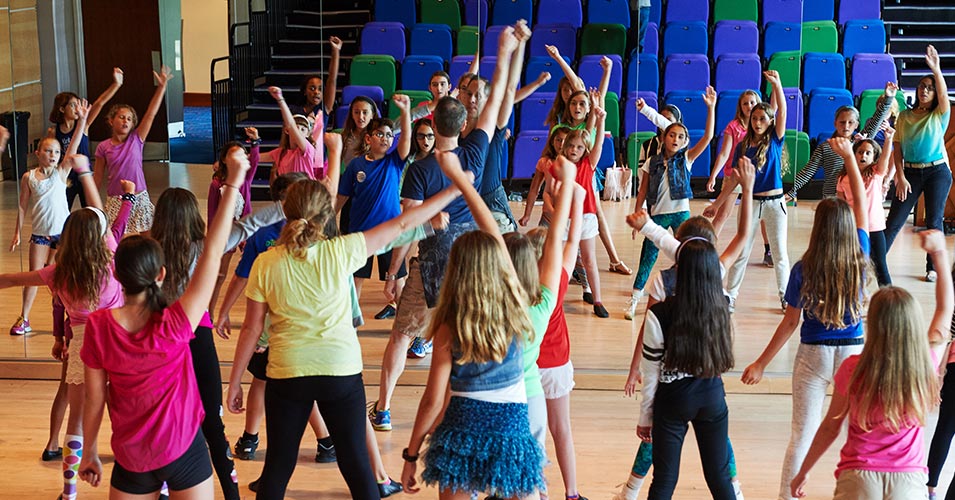 MIDDLE SCHOOL
(Grades 6 – 8)
BROWARD CENTER SPOTLIGHTS
Grades 6–12 | By audition only
Saturdays 12:30 PM – 2:30 PM | $350
Class dates: 2/9 – 5/4
Skip dates: 3/23, 3/30, 4/20
Tech rehearsal: 4/26
Additional rehearsals as needed.
Show: 4/27
Broward Center Spotlights is a youth vocal ensemble perfect for students who love to sing in front of an audience. This audition-based musical theater program trains students to perform solos, duets and group numbers along with choreography for various Broward Center and community events. Past appearances include popular local events, television and community showcases, onstage shows and more. Team-taught by a professional music director and choreographer, students gain top-tier instruction in song and dance, musicianship, improved vocal technique and song interpretation while building dance skills and stage presence. This class culminates in the Spring Spectacular in the Amaturo Theater. Class fee includes a Broward Center Spotlights t-shirt and two tickets to the Spring Spectacular.
Teaching artists: Tammy Holder and Ron Hutchins
YOUTH SPRING MUSICAL: WIZARD OF OZ
Grades: 4–8
Mondays 6:00 PM–9:00 PM | $385
Class dates: 2/25-5/13
Skip dates: 3/25
Rehearsals: 5/17, 5/18, 5/19
Show dates: 5/20 and 5/21
In an all-encompassing theatrical experience, students learn acting, singing and dancing as well as production disciplines such as costumes, props, make-up and staging and use these skills to put on a final show. Grab your ruby slippers and get ready for a musical journey down the yellow brick road with your favorite characters including the Scarecrow, the Tin Man, the Lion, Dorothy and Toto for this production of The Wizard of Oz. This class is offered in partnership with The Performance Project School of the Arts. Fee includes script and basic costume.
Teaching artists from The Performance Project, Inc.
AUDITION PREP: MONOLOGUES
Grades: 7–12
Tuesdays 7:00 PM–8:30 PM | $450
Class dates: 2/12 – 4/23
Skip date: 3/26
Whether trying out for the school play or auditioning for a professional production, students hone the skills needed to be successful at a theater audition with the guidance of professional theater performers and acting teachers. During the course, students learn about monologue selections, performance, scene work, redirection techniques, improvisation, head shots and resumes. They review audition etiquette such as how to compose yourself, what to wear and how to handle the audition with professionalism, then participate in a "Mock Audition" to help them feel prepared and confident for their upcoming auditions. Students leave with a polished monologue, resumé and audition video, as well as greater confidence for their next audition!
Teaching artists: Michelle Terl and guest artists
Students should have experience in theater and 2-3 monologues.
MUSICAL THEATER EXPERIENCE: THE BROADWAY SEASON
Grades: 6–8
Wednesdays 6:00 PM–7:00 PM | $310
Class dates: 2/13 – 4/24
Skip date: 3/27
Get ready to experience the Broward Center's Broadway season through song and dance. In this fun and unique class, students sharpen their singing, dancing and acting techniques using songs and choreography from shows in our popular 2018-2019 Broadway season. Shows featured this season include Dear Evan Hansen, Anastasia, Fiddler on the Roof and Hamilton. A different show will be featured each week.
Teaching Artists: Tammy Holder, and Ron Hutchins
TEEN SPRING MUSICAL: THE ROCKY HORROR SHOW*
Grades 8–12 | By audition only | $385
THURSDAYS 6:00 PM – 9:00 PM
Class dates: 2/7 – 4/25

SATURDAYS 3:30 PM – 6:30 PM
Class dates: 2/9 – 4/27
Skip dates: 3/23, 3/28, 3/30, 4/20
Rehearsal dates: 4/29-5/2
Show Dates: 5/3-5/5
Advanced techniques in acting, singing and dance are integrated into the rehearsal process and culminate in a full-length musical production. A loving homage to the classic B sci-fi film and horror genres with an irresistible Rock 'n' roll score, The Rocky Horror Show is a hilarious, wild ride that no audience will soon forget. Fee includes script and costumes. This class is offered in partnership with The Performance Project School of the Arts.
* This show contains mature content
Teaching artists from The Performance Project, Inc.
ADVANCED MUSICAL THEATER WORKSHOP:
MATILDA JR. - Pilot Production
Grades: 4–12 | By audition only
Be part of this unique and exciting opportunity!
Spring Session—MATILDA JR. - Pilot Production
Saturdays 9:30 AM – 11:30 AM | $450
Class dates: 2/9-5/4
Skip dates: 3/23, 3/30, 4/20
Additional Rehearsals: 5/6 – 5/14
Show dates: 5/15 and 5/16
The Broward Center has been selected by Music Theater International (MTI) to produce a pilot production of Matilda Jr. As one of the first theaters in the country to produce the junior version of the hit Broadway show (prior to the show's official release), we are offering students this unique opportunity to be part of the pilot production. In the spring session, students continue to develop their musical theater skills while rehearsing for Matilda Jr. Performers will have the opportunity to provide input in this new adaptation as the show progresses further in development. The rehearsals will culminate in two performances of the pilot production. As part of the creation and editing process, all scripts, roles, scenes and characters are subjected to change at any time prior to the final performance.
Teaching Artists: Tammy Holder, Stephen Kaiser and Safiyyah Joseph-Francois