Home

/

Education: Middle School (Grade 6–8)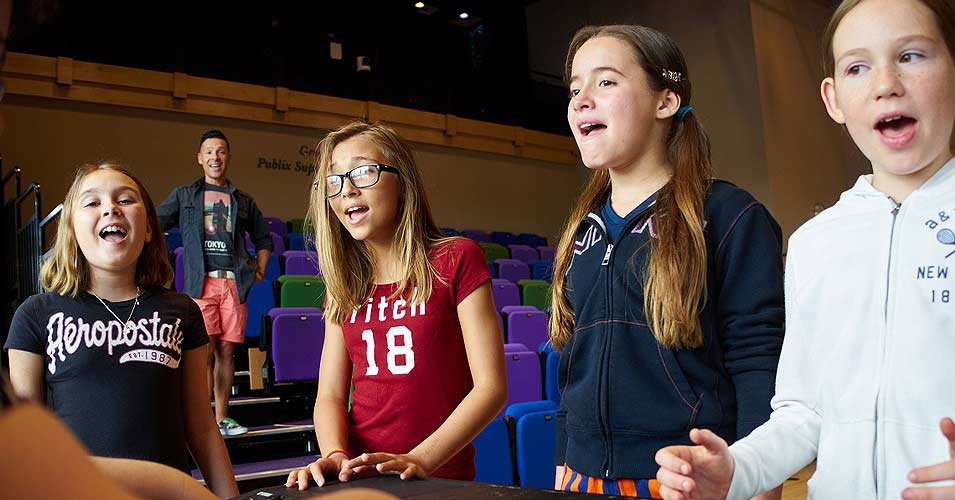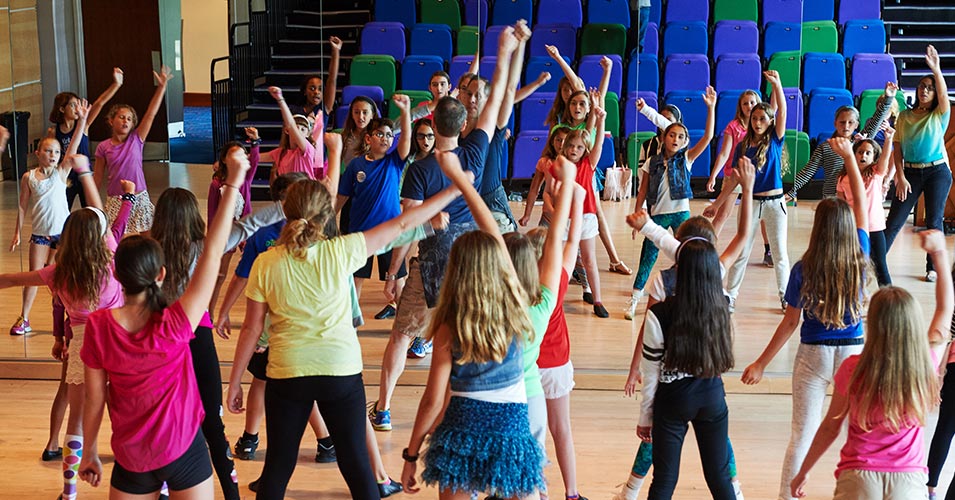 MIDDLE SCHOOL
(Grades 6 – 8)
BROWARD CENTER SPOTLIGHTS
Grades 6–12 | By audition only
Saturdays 12:30 PM – 2:30 PM | $350
Class dates: 9/8 - 11/10
Broward Center Spotlights is a youth vocal ensemble perfect for students who love to sing in front of an audience. This audition-based musical theater program trains students to perform solos, duets and group numbers along with choreography for various Broward Center and community events. Past appearances include popular local events, television and community showcases, onstage shows and more. Team-taught by a professional music director and choreographer, students gain top-tier instruction in song and dance, musicianship, improved vocal technique and song interpretation while building dance skills and stage presence. Class fee includes a Broward Center Spotlights t-shirt.
Teaching artists: Tammy Holder and Desiree Parkman
YOUTH FALL MUSICAL:
INTO THE WOODS JR.
Grades: 4–8
Mondays 6:00 PM–9:00 PM | $385
Class dates: 9/17 – 11/26
Skip date: 11/12
Tech rehearsal: 12/2
Show date: 12/4
In an all-encompassing theatrical experience, students learn acting, singing and dancing as well as production disciplines such as costumes, props, make-up and staging and use these skills to put on a final show. Into the Woods JR. features favorite storybook characters—Cinderella, Little Red Riding Hood, Jack (and his beanstalk) and the Witch— in this lyrically rich retelling of classic Brothers Grimm tales. This class is offered in partnership with The Performance Project School of the Arts. Fee includes script and basic costume.
Teaching artists from The Performance Project, Inc.
AUDITION PREP: MUSICAL THEATER SINGING
Grades: 7–12
Tuesdays 7:00 PM–8:30 PM | $450
Class dates: 9/11 – 11/20
Skip date: 9/18
Whether trying out for the school play or auditioning for a professional production, students hone the skills needed to be successful at a musical theater audition. Students leave with a polished song, resumé and audition video, as well as greater confidence for their next audition! Students receive guidance on head shots, resumés, song selection, cutting songs and creating a character in 16 bars. Along with expert instruction in musical theater singing, this class teaches audition etiquette such as how to compose yourself, how to communicate with the accompanist, what to wear and how to handle the audition with professionalism. Throughout the session, students showcase what they've learned in front of various guest artists and theater professionals who provide feedback on their performances.
Teaching artist: Tammy Holder and guest artists
Students should have experience in musical theater and a repertoire of 2-4 songs.
MUSICAL THEATER EXPERIENCE:
A SONG & DANCE REVOLUTION
Grades: 5–8
Wednesdays 6:00 PM–7:00 PM | $310
Class dates: 9/12 – 11/28
Skip date: 9/19, 11/21
Join the revolution! History comes to life through music, dance, theater and spoken word as students develop musical theater skills and learn about important moments in history taken from our 2018/2019 Broadway season. In this fun and unique class, students sharpen their singing, dancing and acting techniques while remixing, performing and exploring themes, characters, songs and stories from shows including Hamilton, Anastasia, Fiddler on the Roof and more. Family and friends are invited to a showcase at the end of the session.
Teaching Artists: Tammy Holder, Darius Daughtry, Ron Hutchins
PERFORMANCE MENTOR PROGRAM: HAIRSPRAY JR.
Grades 7–12 | By audition only
Thursdays 6:00 PM – 9:00 PM | $385
Class dates: 9/13–11/1
Rehearsal dates: 11/6 – 11/10, 11/13 – 11/17, 11/27 – 11/28
Show Dates: 11/29, 11/30, 12/1
This unique performance experience offers students the opportunity to study and perform alongside adult theater professionals. This class includes eight weeks of musical theater skills-building classes and two weeks of rehearsals prior two public performances of this family-friendly musical. Adapted from the Broadway production that won eight Tony Awards, including Best Musical, Hairspray JR. celebrates diversity and inclusion and bring audiences to their feet with its positive messages and uproarious sense of humor. Fee includes script and costumes. This class is offered in partnership with The Performance Project School of the Arts.
Teaching artists from The Performance Project, Inc.
ADVANCED MUSICAL THEATER WORKSHOP:
MATILDA JR. - Pilot Production
Grades: 4–8 | By audition only
Be part of this unique and exciting opportunity!
Fall Session—Prepping for the show
Saturdays 9:30 AM – 11:30 AM | $360
Class dates: 9/8 – 11/10
Spring Session—MATILDA JR. - Pilot Production
Saturdays 9:30 AM – 11:30 AM | $450
Class dates: 2/9-5/4
Skip dates: 3/23, 3/30, 4/20
Additional Rehearsals: 5/7 - 5/15
Show dates: 5/16 and 5/17
The Broward Center has been selected by Music Theater International (MTI) to produce a pilot production of Matilda Jr. As one of the first theaters in the country to produce the show (prior to the show's official release), we are offering students a unique opportunity to be part of the pilot process. This process allows MTI to fine-tune the script, music, and materials before the rights become available to schools and theatres. In the fall, students strengthen techniques in singing, dancing and acting and prepare for an audition. In the spring, students rehearse for and put on the pilot performance of Matilda JR., the story of an extraordinary girl who, armed with a vivid imagination and a sharp mind, dares to take a stand and change her own destiny. For more details, click here.
Teaching Artists: Tammy Holder, Stephen Kaiser and Safiyyah Joseph-Francois