Home

/

Education: Middle School (Grade 6–8)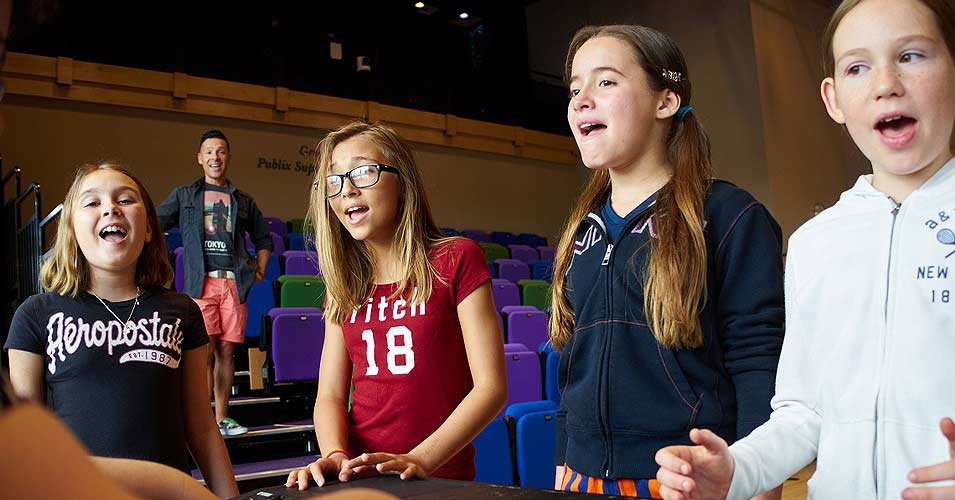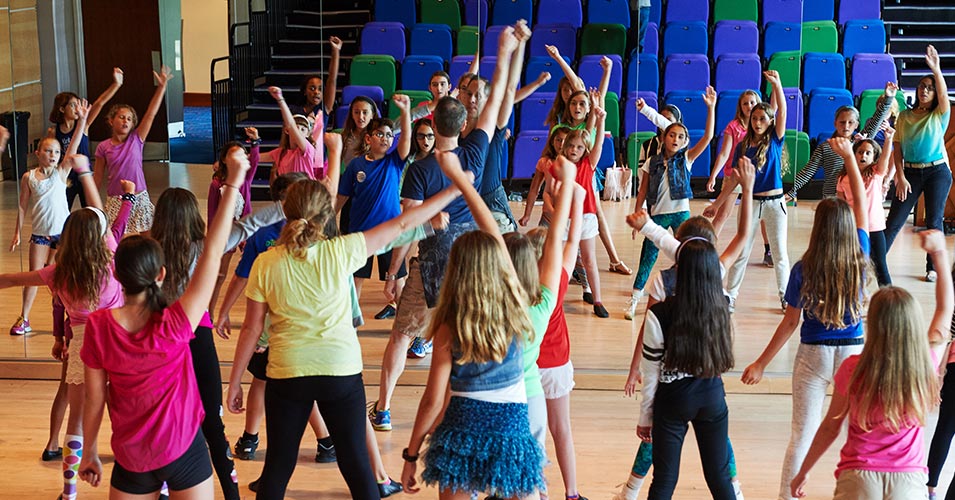 TWEENS & TEENS
(Grades 6 – 12)
ADVANCED MUSICAL THEATER WORKSHOP: MTI'S ALL TOGETHER NOW! - A GLOBAL EVENT CELEBRATING LOCAL THEATRE
GRADES: 4–12 | BY AUDITION ONLY | $360
SATURDAYS 9:30 – 11:30 AM
Class dates: Sep 11 – Nov 13
Show: Nov 15

In this advanced-level class, students develop their musical theater skills on a pre-professional level by strengthening techniques in singing, dancing and acting. Each week students will focus on specific skills and receive intensive study with each teaching artist professional. Students explore various acting methods, script analysis and how to create strong characters. For dance, students will work on stretching and flexibility as well as study various musical theater dance styles. The singing instruction focuses on expanding healthy vocal technique, learning music theory and developing skills to build a character for your song. Students integrate these skills and gain confidence as a strong and engaging musical theater performers. This class will culminate with a performance in November of All Together Now! – A Global Event Celebrating Local Theatre.

Teaching Artists: Tammy Holder, Ven Daniel & TJ Tekurio
ULTIMATE THEATER DANCE
GRADES: 4-12
MONDAYS 6:45 - 8:00 PM | $325
Class dates: Sep 13 – Nov 15

Ultimate Theater Dance is the exploration of traditional and contemporary Broadway dance styles that include elements of ballet, jazz and modern dance. This intermediate-level class will focus on core fundamental exercises and technical steps while introducing new and challenging movement styles. Basic dance skills recommended.

Teaching Artist: TJ Tekurio
MUSICAL THEATER SINGING
GRADES: 4–12
TUESDAYS 7:00 - 8:15 PM | $325
Class dates: Sep 14 – Nov 16

This group singing class is perfect for students who love show tunes. Students learn songs from some of Broadway's greatest composers while focusing on healthy vocal and breathing techniques, creating a character through song, and developing overall stage presence. Basic music theory and sight-reading instruction are included. All levels are welcome as students will sing in group numbers and explore their specific skill level through solos and duets. Family and friends are invited to a musical showcase at the end of the session.

Teaching Artist: Tammy Holder
BROWARD CENTER SPOTLIGHTS
GRADES: 6–12 | BY AUDITION ONLY | $325
SATURDAYS 12:30 PM - 2:30 PM
Class dates: Sep 11 – Nov 13
Show date: Nov 15
(Spotlights join MTI's All Together Now! – A Global Event Celebrating Local Theatre and participate in annual community holiday appearances)

Broward Center Spotlights is a youth vocal ensemble perfect for students who love to sing in front of an audience. This audition-based musical theater program trains students to perform solos, duets and group numbers along with choreography for various Broward Center and community events. Past appearances include popular local events, television and community showcases, onstage shows and more. Team-taught by a professional music director and choreographer, students gain top-tier instruction in song and dance, musicianship, improved vocal technique and song interpretation while building dance skills and stage presence. Class fee includes a Broward Center Spotlights t-shirt.

Teaching artists: Tammy Holder and TJ Tekurio
YOUTH FALL MUSICAL: DISNEY'S HIGH SCHOOL MUSICAL JR.
GRADES: 4–10
MONDAYS 6:00 - 9:00 PM | $385
Class dates: Sep 20 – Nov 29
Skip date: Nov 22
Rehearsal: Dec 5
Show date: Dec 6

In an all-encompassing theatrical experience, students learn acting, singing and dancing as well as production disciplines such as costumes, props, make-up and staging and use these skills to put on a final show. Disney Channel's smash hit movie musical comes to life on your stage with Disney's High School Musical JR. Troy, Gabriella and the students of East High must deal with issues of first love, friends and family while balancing their classes and extracurricular activities. This class is offered in partnership with The Performance Project School of the Arts. Fee includes script and basic costume.

Teaching artists from The Performance Project, Inc.
PERFORMANCE MENTOR PROGRAM: ELF THE MUSICAL
GRADES: 3–12 | BY AUDITION ONLY | $385
THURSDAYS 6:00 - 9:00 PM
SATURDAYS 3:30 - 6:30 PM
Class dates: Sep 18 – Dec 4
Skip dates: Nov 11, Nov 25, Nov 27
Rehearsals: Dec 7 – 9
Show dates: Dec 10 – 11

Advanced techniques in acting, singing and dance are integrated into the rehearsal process and culminate in a full-length musical production. This unique performance experience offers student the opportunity to study and perform alongside adult professional actors. Based on the beloved holiday film, this hilarious fish-out-of-water comedy follows Buddy the Elf in his quest to find his true identity. This modern-day holiday classic is sure to make everyone embrace their inner elf. After all, the best way to spread Christmas cheer is singing loud for all to hear. Fee includes script and costumes. This class is offered in partnership with The Performance Project School of the Arts.

Teaching artists from The Performance Project, Inc.
As the Broward Center prepares to reopen its venues, the health & safety of our guests, artists, staff, and volunteers are our top priorities. With this in mind, have implemented a number of changes to ensure an enjoyable experience when you visit. Our health & safety guidelines have been developed in collaboration with Cleveland Clinic and have been informed by guidance of public health officials including the Centers for Disease Control (CDC). These guidelines will continue to evolve as the environment changes, and we will share updated information in advance of your visit.
Thank you for your cooperation in helping us to create a safe and enjoyable experience for all.